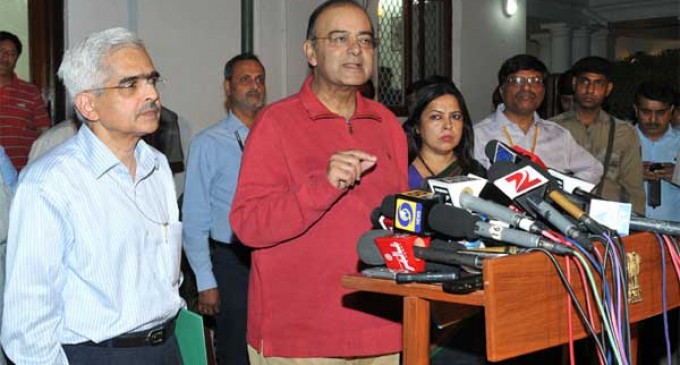 New Delhi, Oct 18  Finance Minister Arun Jaitley said India and Switzerland have reached an understanding on a number of issues regarding sharing of information in cases of black money being stashed in Swiss banks.
"A team of senior Finance Ministry officials which returned today (Friday) from Switzerland have been negotiating with the Swiss on a number of issues regarding information that India seeks on Black money," Jaitley told reporters here.
"The Swiss have agreed to provide us bank information of names that we will provide them after there has been an investigation and evidence collected against that person."
According to the minister, the Swiss authorities also agreed to accept any findings of Indian investigations into the black money issue as authentic and will co-operate in providing bank information of the people against whom evidence have been found.
"We have agreed to carry this process of sharing information in a time bound manner in which a time frame will be set for the process so that investigation and the request for information does not goes on for ever," Jaitley said whose ministry's revenue secretary Shaktikanta Das and Chairman of the Central Board of Direct taxes (CBDT) K.V. Chowdary travelled to Switzerland to hold discussions with the authorities there.
The Finance Minister Jaitley said that the both sides have agreed to hold discussion for reaching an agreement for automatic sharing of information of account holders against whom substantial evidences have been found.
On the governments' stand at the Supreme Court regarding disclosure of names of individual the ministry had received from foreign governments, Jaitley said that these names can not be revealed due to a confidentiality clause in a double taxation avoidance agreement India had signed with Germany in 1995.
The disclosure can only happen, Jaitley said if a proper investigation is started against such individual and a substantial amount of evidence is found against them and given in a court of law.
The government has said that such disclosures would be counter productive for getting further information on black money stashed away in tax havens as foreign governments would not share such information in future.