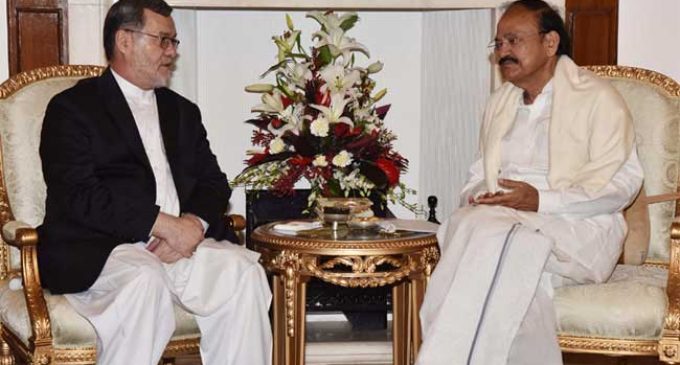 New Delhi, Dec 13  India supports Afghanistan in all its efforts to emerge as a united, democratic, peaceful, stable and prosperous nation and "completely supports" the National Unity government, Vice President M. Venkaiah Naidu said on Tuesday.
Naidu held talks with visiting Afghan Second Vice President Mohammad Sarwar Danish here and said that India supports Afghan-led, Afghan-owned and Afghan-controlled reconciliation efforts which should comply with internationally accepted red-lines.
He said that recent months have seen intense and positive activity in the bilateral relationship between the two countries, while adding that Afghanistan can truly emerge as an important trade, investment and connectivity junction for the entire Asian and Eurasian region.
Voicing concern over the huge challenges facing Afghanistan and confronting issues of safe havens and other forms of cross-border support enjoyed by terrorists, the Vice President said they should actively confront the policy of state support to terrorism that is being practiced by "a certain neighbour of ours".
Pointing out that last year was the most violent year since 2001 for Afghanistan with over 10,000 causalities of whom 25 per cent were civilians, Naidu stressed the need for setting up of an international verification mechanism for action taken in fighting terrorism and elimination of safe havens and other support systems.
Stating that India is aware of the New US Policy in Afghanistan, he said New Delhi remains committed towards reconstruction and development of Afghanistan as a valued neighbour and strategic partner.