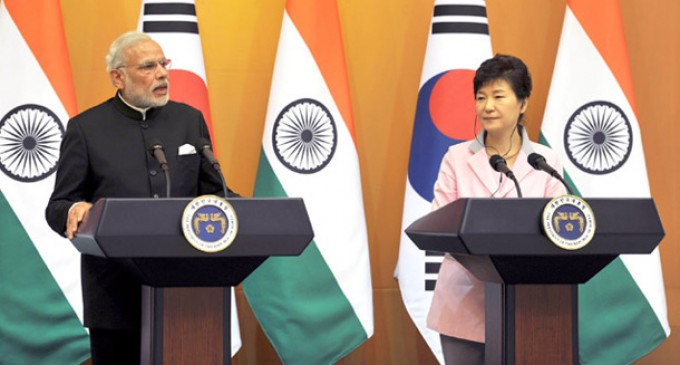 Seoul, May 18 (IANS) South Korea offered to provide $10 billion for infrastructure projects in India, including smart cities and railways, as Prime Minister Narendra Modi held talks with President Park Geun-hye here on Monday and the two countries decided to elevate their ties to a special strategic partnership.
Both sides agreed to increase their defence and security cooperation and also inked seven agreements, including on avoidance of double taxation and for cooperation between their National Security Councils.
Modi, who arrived in the morning from Ulan Bator, held talks with President Park after a ceremonial welcome at the Cheong Wae Dae, the presidential residence.
Modi, in his press statement said India considers South Korea "a crucial partner in India's economic modernization" and it can be a leading partner in India's focus on infrastructure and developing a world class manufacturing sector.
He said that both countries have agreed to hold their diplomatic and security dialogue in the "2 plus 2 format" — between their foreign and defence secretaries. Japan is the other country with which India holds such a dialogue.
"I welcome the decision to have regular cooperation between our National Security Councils. We have also agreed to expand cooperation between our armed forces," said Modi.
A lengthy joint statement said that South Korea is to offer $10 billion for mutual cooperation in infrastructure projects in India, including smart cities, railways, power generation and transmission. Both sides are to cooperate in the Asia-Pacific Region.
President Park, in her remarks, said both leaders have found complementarities between India's 'Act East' and her country's Northeast Asia Peace and Cooperation Initiative (NAPCI).
As part of the Special Strategic Partnership, both would hold annual summit meetings; hold annual joint commissions led by the their foreign ministers; boost cooperation between their defense education institutions; hold regular consultations between their National Security Council on matters of security, defence and cyber issues, hold the defence and foreign affairs dialogue in the "2+2" Format and also boost cooperation between their shipyards for defence needs, the joint statement said.
Modi said both sides intend to deepen their cooperation in defence technology and manufacture of defence equipment in India.
"I have requested President Park to support the participation of Korean companies in the defence sector in India. Her response has been positive," he said. He also said both leaders saw vast opportunities for Korean companies to participate in 'Make in India' mission.
India is to set up a channel for the purpose – Korea Plus – to facilitate investment and operations in India.
Modi said that besides defence equipment, he has invited Korean investments in areas like ship building, including LNG tankers and both would set up a Joint Working Group on shipbuilding.
Both welcomed the signing of the revised Double Taxation Avoidance Agreement and to begin negotiations to amend the CEPA by June 2016, the joint statement said. Both sides are to explore cooperation in the steel sector to develop mutually beneficial projects.
They also underlined the importance of peace and stability in the Korean peninsula and voiced concern over North Korea's nuclear weapons and ballistic missile programmes.
"I offered India's support to Korean people for peaceful re-unification of Korean Peninsula," Modi said.
On regional issues, both discussed their engagement in the East Asia Summit and with ASEAN. Both sides agreed to work together and with other countries in the region "to ensure freedom of navigation and safety and security of sea lanes of communication," he said. The allusion is to China's assertiveness in the South China Sea that has upset countries in the region.
Seoul also expressed support for India's early membership of the four multilateral export control regimes – the Nuclear Suppliers Group, Missile Technology Control Regime, Australia Group and Wassenaar Arrangement – "based upon consensus within each regime". Both agreed to work towards UNSC reforms to reflect contemporary realities and include major developing countries, the statement said.
Earlier, addressing the 1,500-strong Indian community after his arrival, Modi said the world's perception of India has changed since his government took over a year ago and that "humanity" lay at the centre of his government's foreign policy.
He also said that the "I" or India among the BRICS bloc of countries had begun to "teeter and stumble" but after his government came to power, India is moving fast on the growth path.
Modi later met UN chief Ban Ki-moon and also attended a dinner banquet hosted by President Park. He gifted Park with two finely woven pashmina stoles in which Rabindranath Tagore's poem for Korea is hand-embroidered, he tweeted.