New Delhi, July 18  India and South Africa have pledged to strengthen bilateral ties and work closely in international forums to advance the interests of the two countries and the developing world at large.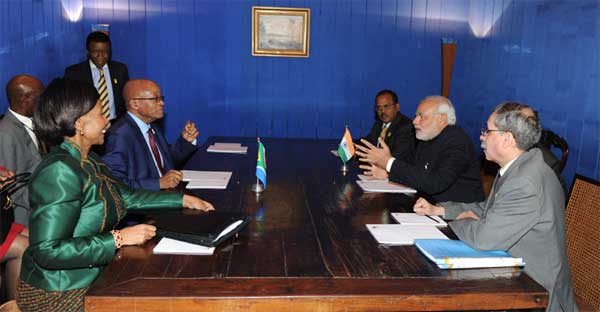 Meeting on the sidelines of the BRICS summit in Brasilia, Prime Minister Narendra Modi and South African President Jacob Zuma described the relations between the two countries as "unique and special", forged by the strong presence of the Indian community in South Africa, said a statement from the Prime Minister's Office here Thursday.
The two leaders greeted each other on their electoral victories in their respective countries this year.
Prime Minister Modi thanked President Zuma for his wise stewardship of BRICS over the last year.
Modi also extended an invitation for South African representation in the centenary celebrations of Mahatma Gandhi's return to India in January next year.
Modi noted that Mahatma Gandhi's life had created a special link between the two countries.
Zuma sought Modi's cooperation in strengthening small and medium-scale industries in South Africa.
Prime Minister Modi lauded President Zuma's initiative and offered India's full support.