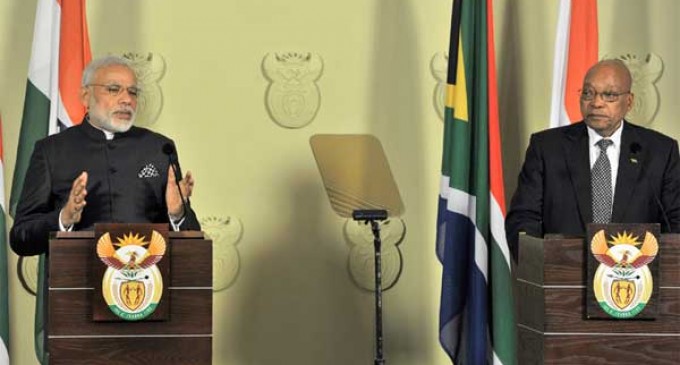 Pretoria, July 9  India and South Africa on Friday underscored the need for continuing consultations and exchange of views in order to build partnerships in multilateral fora, according to the joint statement issued after Prime Minister Narendra Modi met South African President Jacob Zuma.
Modi thanked Zuma for for his country's support to India's membership of the Nuclear Suppliers Group (NSG). He also reiterated India's commitment to comply with NSG guidelines and continued commitment to non-proliferation and disarmament.
Modi is on an official visit to South Africa from July 7-9 on the second leg of his maiden fourn-nation Africa tour. He is accompanied by a delegation comprising senior government officials.
According to the joint statement, both the leaders noted the outcomes of the Third India-Africa Summit Forum which took place in New Delhi from October 26-29 and both agreed that it provided an opportunity to review and update priorities for Africa and India – to deepen the historic solidarity and partnership, and to intensify, diversify and multiply trade and economic relations between the two nations.
Both leaders reaffirmed their commitment to fulfil the goals and plan of action set forth during the Summit, the joint statement said.
"The two leaders held discussions in the spirit of the strong friendship and historical links between the two countries," it added.
While they expressed satisfaction with the current status of bilateral relations, it was, however, emphasised that there is still scope for the further strengthening and deepening of relations in the political, economic, scientific and socio-cultural spheres and it was agreed that frequent and sustained contact between South Africa and India in mutually identified areas will serve to maintain the momentum of the bilateral relationship.
Both the leaders discussed to intensify collaboration in the sectors of defence, energy, agro-processing, human resource development, infrastructure development as well as science, technology and innovation.
Zuma welcomed relaxation of Foreign Direct Investment (FDI) rules in India by lifting the caps on FDI in nine sectors of the Indian economy including defence, food retail, local airlines, private security firms and pharmaceutical.
Both leaders also expressed the desire to broaden people-to-people interactions and to increase two-way tourism which would include a redoubling of efforts to address challenges with regard to consular and immigration related issues.