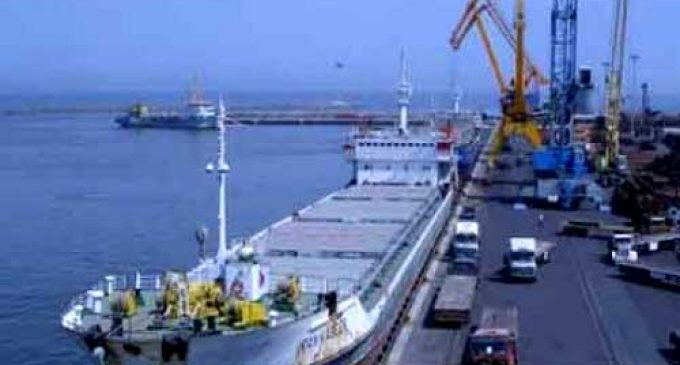 New Delhi, Oct 30  In a major diplomatic initiative, India on Sunday flagged off its first consignment of wheat to Afghanistan to be transhipped through Iran's Chabahar port.
"Today, as we jointly flag off the first shipment of wheat from India to Afghanistan through Chabahar Port, we are taking an important step in realising that shared aspiration to carve out the new routes of peace and prosperity," External Affairs Minister Sushma Swaraj said over a joint video conference with her Afghan counterpart Salahuddin Rabbani.
"The wheat that is leaving the Indian shores today, is a gift from the people of India to our Afghan brethren.
"It is testament to the continued commitment of the government and the people of India to support our Afghan brethren in building a normal, peaceful, prosperous, secure and bright future for themselves. This is a manifestation of our New Development Partnership that we committed to when Foreign Minister Rabbani was in India last month," she said.
The shipment to Afghanistan comes in the wake of Afghan President Ashraf Ghani's one-day visit to India on October 24 just before US Secretary of State Rex Tillerson reached here in his first visit in his official capacity. India is a major development aid partner for strife-torn Afghanistan and New Delhi's role was appreciated by Tillerson in a joint address to media with Sushma Swaraj.
Sushma Swaraj also thanked Iran "for providing assistance in facilitating the movement of this gift through Chabahar Port".
"This shows the convergence between the ancient civilisations of India, Afghanistan and Iran to spur unhindered flow of commerce and trade throughout the region," she said.
"The shipment is part of a commitment made by the Government of India to supply 1.1 million tonnes of wheat for the people of Afghanistan on grant basis," an External Affairs Ministry statement said.
According to the statement, the two Foreign Ministers welcomed the fact that this was the first shipment that would go to Afghanistan through Chabahar after the trilateral agreement to develop the port as a transport and transit corridor between India, Iran and Afghanistan was signed by Prime Minister Narendra Modi with Iranian and Afghan Presidents Hassan Rouhani and Ashraf Ghani in May last year.
"The people of India, Afghanistan and Iran have been connected through centuries; shared commonalities of art and culture, ideas and knowledge; language and traditions," Sushma Swaraj said.
"Today, we are rejuvenating these connects and commonalities. I believe that this is the starting point of our journey to realise the full spectrum of connectivity – from culture to commerce; from traditions to technology; from investments to IT; from services to strategy; and from people to politics, that has been visualised by Prime Minister Modi."
During the second Strategic Partnership Council meeting in New Delhi between India and Afghanistan on September 11, making use of the fresh $1 billion announced by Prime Minister Modi, the two countries launched a New Development Partnership.
India worked with Afghanistan to identify priorities and projects where Kabul needed New Delhi's assistance to be directed.
In an obvious reference to Pakistan, Sushma Swaraj said that India and Afghanistan established an air corridor to "overfly the obstacles imposed by geography and mind sets".
"Today, we are bridging them through sea and land under our trilateral cooperation," she added.
This was a reference to the first Afghanistan-India air corridor, that bypasses Pakistan, to improve commerce, which was inaugurated by Ghani in June.