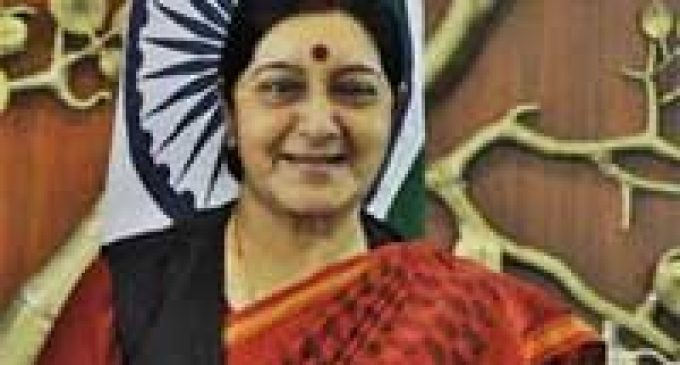 Singapore, Aug 16 India Saturday sought more participation from Singapore in connectivity and infrastructure projects, especially along the Delhi-Mumbai Industrial Corridor, the Chennai-Bangalore Industrial Corridor and in the northeast.
External Affairs Minister Sushma Swaraj, addressing the inauguration of the "Year of India in Singapore", said the island nation could develop a virtual city or a "Little Singapore" somewhere along the industrial corridor.
She said Singapore was not only India's largest trading partner in the Association of Southeast Asian Nations (ASEAN), but also one of the largest sources of FDI globally and one of the largest destinations of outward FDI.
"Nevertheless, scope to scale up investments in India by Singapore exists. We should look at scope of venture capital for innovations and for cooperative projects in third countries," she said, according to a statement.
She said connectivity projects in all its dimensions – physical, institutional and people-to-people – is a priority for India.
"There has been impressive growth of air connectivity between our countries. It would be mutually beneficial to launch direct air-connectivity between Singapore and the northeast, particularly Guwahati.
"The northeast is our gateway to the ASEAN hinterland. Education, tourism and business are key links. I wish to see greater flow between peoples and institutions to enrich this relationship," she said.
Lauding Singapore's expertise in setting up "smart cities", urban planning and water management strategies, Sushma Swaraj said they offer a valuable learning experience for India.
"We shall work for setting up greenfield smart cities and for urban rejuvenation. Our experts shall identify the priorities and we shall coordinate its timely delivery."
"Singapore's experience in skill development can be invaluable for us, given our large requirement.
"The world class skill development centre in Delhi, set up by Singapore, is a model for similar centres in the rest of the country, including the northeast."
Sushma Swaraj suggested a "state focus" in India's bilateral engagement with Singapore, which besides harnessing the enormous economic potential of Indian states, would also provide an opportunity to showcase their cultural diversity.
She said the "cultural content in bilateral ties could be enhanced considerably and can become one of the new pillars of the robust relationship".
The external affairs minister said Singapore has played a key role in the revival of Nalanda University, "a symbol of our historical linkages and an abiding example of Asian cooperation".
"I am delighted that Singapore will be contributing the library of the new Nalanda University. I am pleased to learn that the Asian Civilisations Museum will host a major Buddhist Art Exhibition, curated by the Indian Museum, Kolkata, which showcases our ancient Buddhist exchanges."
She also announced that India will be gifting a bust of Netaji Subhas Chandra Bose to the India Heritage Centre, to be established by the Singapore authorities.
"We proudly recall the contribution of Netaji to our Independence movement and his close connections with your beautiful city.
"During the year-long activities, we shall try to open windows to India which we hope will leave the viewer wanting more. This will be an important pillar of our emerging relations," she said.
Sushma Swaraj said Singapore was India's largest trading and investment partner in the ASEAN region.
Over 6,000 Indian companies operate in Singapore and there is also a large Singaporean presence in India.
"There is a rising tide in the flow of people and services and technologies. We also share convergent perspectives on many global and regional issues. Engagement with ASEAN is at the core of India's 'Look East Policy' and Singapore is our gateway to the ASEAN," she said.
The event was to commemorate 50 years of diplomatic relations between India and Singapore.