By TN Ashok / Diplomatic Editor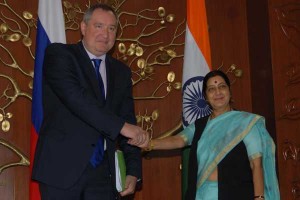 New Delhi, June 18: Energy security covering nuclear energy and tie ups in exploration and production in the oil sector figured prominently among other things in the first high-level diplomatic faceon between India and Russia as External Affairs Minister Ms Sushma Swaraj and visiting Russian Deputy Prime Minister Dmitry O Rogozin held extensive talks on crucial bilateral issues.
" We need to ramp up things and take Indo Russian trade ties to the next higher level, both leaders felt as the current volume of trade at US $ 10 billion was rather low considering the potential of both countries to help each other ", Syed Akbaruddin, External Affairs Ministry spokesman told newsmen soon after the talks.
There is tremendous potential for cooperation in the hydrocarbon sector, nuclear energy, space research, and other sectors, the two leaders felt as trade between Russia and India now was slanted towards the former with Russian exports to India accounting for US $ 6.5 billion and Indian exports to Russia at US $ 3.5 billion. India had a lot more to export to Russia.
The MEA spokesman also revealed that both Russia and India also agreed on the need to have a joint study on the feasibility of a Free Trade Agreement (FTA) that covered not only Russia but territories such as Belarus.
India and Russia also deliberated on regional and international issues of mutual concern. Both Ms Swaraj and Rogozin, who arrived in Delhi early today on a two-day visit, are understood to have discussed preparations for the annual summit between Prime Minister Narendra Modi and President Vladimir Putin scheduled for around the later part of the year.
Issues relating to economic cooperation, energy security and the deal for the third and fourth reactors of Kudankulam power plant in Tamil Nadu figured in the talks. "Right now both sides are discussing the technical aspects for the 3rd and 4th units which includes seismic studies", the spokesman said.
Russia has in-principle agreed to the Indian nuclear liability law, paving the way for signing a contract for unit 3 and 4 of the Kudankulam Nuclear Power Plant. Two units of Kudankulam Nuclear Power Plant (KNPP) have been set up by Russia in Tamil Nadu and the first unit has already been made operational on June 07 this year. The 2nd unit of KNPP is expected to achieve criticality by the end of the year.
India and Russia signed a general framework agreement on unit 3 and 4 of KNPP in April this year after crossing the initial hurdles of the Civil Liability Nuclear Damage Act 2010. After the 2014 general elections results, Russian President Putin congratulated Modi for BJP's "convincing victory" and hoped that both the countries would achieve greater success in bolstering Indo Russian ties.
The Russian Deputy Prime Minister will call on Prime Minister Narendra Modi Thursday. Rogozin is also scheduled to meet Defence Minister Arun Jaitley and National Security Adviser Ajit Doval tomorrow.