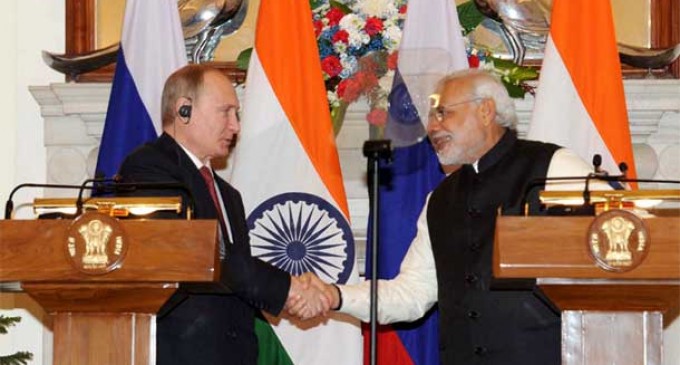 New Delhi, Dec 11 India and Russia Thursday inked 20 agreements, including 13 commercial contracts, as Prime Minister Narendra Modi and visiting Russian President Vladimir Putin held summit talks here.
Among the documents inked was the "Strategic Vision for Strengthening Cooperation in Peaceful Uses of Atomic Energy" that "envisages a roadmap of bilateral cooperation in the civil nuclear energy sector for the next two decades".
The roadmap is for Russia building 12 nuclear units in India at sites to be identified.
Another document inked was for providing "Technical data and information nondisclosure in the framework of cooperation in the field of peaceful use of nuclear energy".
This "envisages provisions/terms of information exchange between the nuclear agencies of both the countries. Will provide an impetus to scientific and technological cooperation in the peaceful use of nuclear energy", the official statement said.
Both sides also inked a "programme of cooperation (PoC)" for cooperation in the field of oil and gas in 2015-16.
This sets out a concrete programme for cooperation, envisaging projects including joint exploration and production of hydrocarbons, long-term LNG supplies and joint study of a hydrocarbon pipeline system connecting Russia with India.
Another agreement was for "Training of Indian armed forces personnel in military educational establishments of the defence ministry of the Russian Federation".
Both sides inked a protocol for consultation between their foreign ministries and another agreement for healthcare cooperation.
Among the major commercial agreements signed was a memorandum of understanding between ESSAR and ROSNEFT for long-term supply of crude oil.
This envisages 10-year supply and purchase by India of crude oil and feed stocks/products.
A formal contract between Nuclear Power Corporation of India Limited (NPCIL) and Russia's ATOMSTROYEXPORT (ASE) was signed for units 3 and 4 of the Kudankulam nuclear power plant in Tamil Nadu.
This will "mark the commencing of the implementation of the units 3 and 4 of Kudankulam nuclear power plant with supply of some major equipment by ATOMSTROYEXPORT", which is Russia's nuclear power equipment and service export monopoly.
An MoU was inked between FICCI and Delovaya Rossiya, an All-Russia business association, which aims at broadening and strengthening economic ties and identifying new areas of economic cooperation.
This will facilitate exchange of information and support to enterprises in both countries.
Oil India Limited and Zarubezhneft, a Russian state-controlled oil company, inked an MoU that envisages cooperation in joint search and evaluation of new hydrocarbons exploration, production, and transportation projects. This will facilitate technological association on hydrocarbon projects in India.