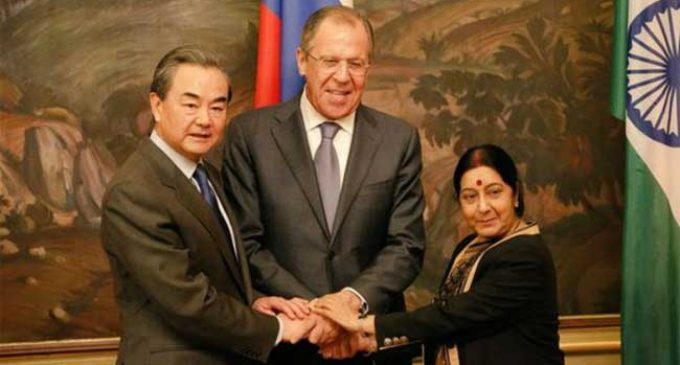 New Delhi, Dec 11  India, Russia and China on Monday called for a peaceful and stable Afghanistan through an Afghan-led and Afghan-owned peace process following the 15th Foreign Ministerial Meeting between the three countries here.
"We reiterate our support to the Government and the people of Afghanistan in their efforts to achieve an Afghan-led, Afghan-owned national peace and reconciliation and build a peaceful, secure, united, sovereign, democratic, stable, prosperous and pluralistic state," a joint statement issued following the meeting, which was attended by External Affairs Minister Sushma Swaraj and her Chinese and Russian counterparts, Wang Yi and Sergey Lavrov, said.
"We share the view that a capable and effective Afghan National Defence and Security Forces (ANDSF) should be the key to the stabilisation of Afghanistan," it said.
"Noting the significant increase of opium poppy production in Afghanistan and the nexus between narcotics revenue and its financial support for terrorism, we emphasise the need for stepping up result-oriented international efforts aimed at countering the Afghan drug threat."
The three countries also stressed on the importance of multilateral region-led interaction on Afghan issues, primarily by those organisations which consist of Afghanistan's neighbouring countries and other regional states, such as the Shanghai Cooperation Organisation (SCO), the Moscow format, the Heart of Asia-Istanbul Process, the Kabul Process and the Regional Economic Cooperation Conference on Afghanistan.
To achieve peace and stability in the Middle East, the three countries reiterated "the need for a comprehensive, just and lasting settlement of the Israeli-Palestinian conflict on the basis of the relevant UN Resolutions, the Arab peace initiative and previous agreements between the parties through negotiations aimed at creating an independent, viable, territorially contiguous Palestinian state living side by side in peace and security with Israel within mutually agreed and internationally recognized borders".
On the crisis in Syria, the three countries reaffirmed that the only lasting solution was "through an inclusive Syrian-led, Syrian-owned political process which safeguards the sovereignty, independence and territorial integrity of Syria, in pursuance of the United Nations Security Council Resolution 2254(2015), and promotes the legitimate aspirations of the Syrian people".
The three sides expressed concern over the continuing conflict in Yemen which has led to the killing of civilians and to the destruction of civilian infrastructure.
"We call for urgent measures by the international community to alleviate social and economic situation in the country and to facilitate unhindered access to humanitarian aid to all parts of the Yemen Republic," the statement said.
The three countries also expressed deep concern over the ongoing tension on the Korean peninsula as a result of the nuclear and ballistic missile programmes of North Korea.