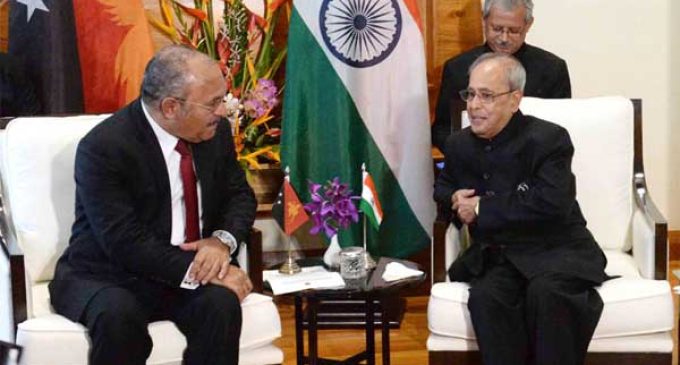 New Delhi, April 29  President Pranab Mukherjee, on a visit to Papua New Guinea, on Thursday stressed the need for India to work as a "reliable partner" with the island nation to achieve peace and security, prosperity and sustainable development.
"Both our nations are bound by our common experience of colonial rule. Since independence, we have charted individual paths and traversed many hurdles to achieve economic progress," Mukherjee said at a banquet hosted by Papua New Guinea Governor General Michael Ogio.
This is the first state visit by an Indian president to Papua New Guinea.
"We now seek to work together as reliable partners to achieve our common aspirations of peace and security, prosperity and sustainable development in our regions," Mukherjee was quoted as saying in a statement released in New Delhi.
Mukherjee also focussed on exploring gas and oil reserves in the island nation and developing downstream industries.
"You are blessed with fertile soil, lands rich in natural resources and abundant marine wealth.
"Our public and private sector are keen to join you in exploring your gas and oil reserves, establishing downstream industries and developing the infrastructure that you require in the different sectors of your growing economy. We have much to offer," he said.
Mukherjee further said: "At this time, when both our nations have prioritised the sustainable use of ocean and marine resources, there are infinite opportunities that must be seized.
"The shifting of the centre of gravity of the global economy to this region is another compelling reason for our intensified co-operation in sectors of common interest."