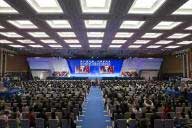 Beijing, Sep 12  Over 2,500 companies from 29 countries, including the 10 Asean members and India, Pakistan and Sri Lanka, are participating in the 13th China-Asean Expo, which opened at China's Nanning city on Sunday, media reported.
The four-day Expo, being held in the capital of China's Guangxi Zhuang region, has the theme 'Jointly building the 21st Century Maritime Silk Road, Forging an Even Closer China-Asean Community of Common Destiny', Xinhua news agency reported.
The event is to highlight industrial cooperation, trade and investment among China, Asean members and other countries along the One Belt, One Road development strategy launched by Beijing.
The China-Asean Business and Investment Summit also opened at Nanning on Sunday.
The expo features 5,800 exhibition booths this year — an increase of 1,200 from the previous event — and includes more than 30 forums to encourage China-Asean cooperation in fields such as education, environmental protection, culture, transport and tourism.
China is Asean's largest trading partner.