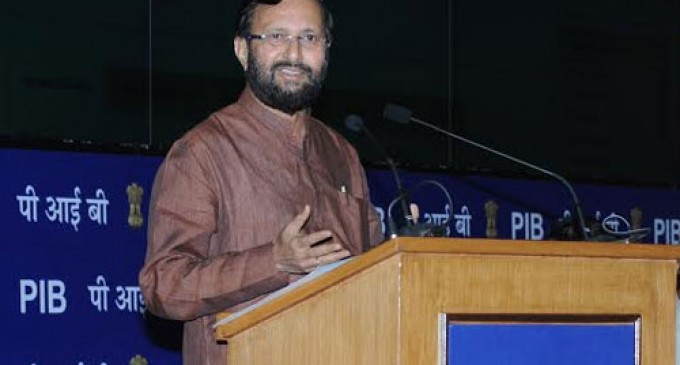 New Delhi, Dec 5 India is "open" to all discussions at the ongoing climate change talks in Lima and an attitude of confidence and optimism will guide its approach, Environment Minister Prakash Javadekar said Friday.
"I am going to Lima with confidence, a positive mindset, and an open mind for discussing anything," he said.
The Narendra Modi government, he added, wouldn't shy away from any discussion at Lima-Conference of the Parties (Lima-COP).
About 195 countries will participate in Lima-COP to debate the next major international climate agreement that will be finalized and signed at the United Nations Climate Change Conference in Paris next year.
As a commitment to strengthening global partnership in climate change, Javadekar said India was walking an aggressive action path with a slew of climate-friendly initiatives that he would like to showcase at Lima-COP.
India is committed to up-scaling its solar energy use by five times from 20,000 MW to 100,000 MW over the next five years, he said.
Aiming to raise more revenue for clean energy and research in this field, the government has raised the clean energy cess on coal by half to Rs.100 per ton.
The government is hoping to save 50 million tons of coal through this revised energy tax, which will be a "huge contribution to the world", the minister said.
Ultra mega solar projects will be set up in certain states with a budget of Rs. 500 crore to promote renewable energy.
With some of these actions to mitigate carbon emission along with Central Pollution Control Board's direction for setting up emission monitoring devices at certain highly polluting industries, India is hoping to "walk clear water, clear air, and clean power", said Javadekar.
However, India holds the view that global partners in climate change have common and differential responsibilities as cardinal principles for sustainable development, he said.
As developed countries have larger share in the global carbon space, their responsibility is higher to mitigate their carbon emission, making way for developing countries to have more share in the global carbon space as their needs are more in view of the struggle to reach the benchmark of a developed economy.
On the issue of Kyoto Protocol ratification, Javadekar made it plain that all parties to the protocol must ratify its second regime.
Underscoring the need for monetary help for India, he said developing countries need finance to fund their clean energy initiatives.
As a reminder to developed countries of their promise of $100 billion in this regard, he said India still awaits the release of $9.3 billion that were finally committed in the whole pool.
Prime Minister Modi's book on climate change will also make its way to Lima, with Javadekar, who leaves for Lima Saturday, intending to present it to world leaders in all his bilateral meetings.
He said he was "confident that Lima COP will lay a good foundation for the new arrangement that will come about in Paris 2015".