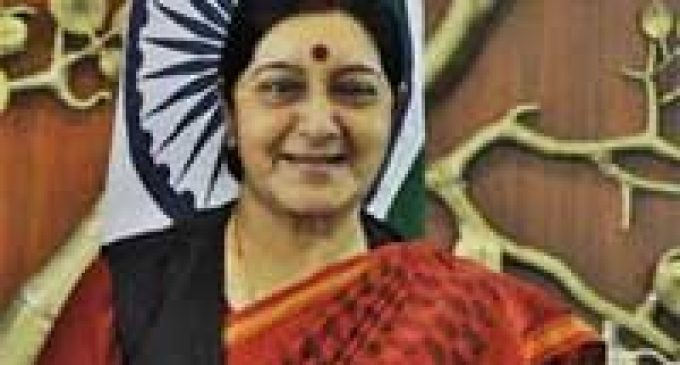 New Delhi, July 23 India and Nepal will resurrect a bilateral joint commission after 23 years during External Affairs Minister Sushma Swaraj's three-day visit to Nepal beginning July 25.
Her trip to Nepal comes a month after she visited Bangladesh, highlighting the BJP-led government's intent of focusing on neighbours.
The focus of her visit will be presiding over the India-Nepal joint commission meeting July 26, said external affairs ministry spokesperson Syed Akbaruddin at a briefing here Wednesday.
"The joint commission is meeting after 23 years, therefore, the format will be different," the spokesperson said.
It is being divided into five clusters. The first group would be on political, security and border, the second on economic cooperation and infrastructure, the third on trade and transit, the fourth on power and water resources and the fifth on culture, education and media, he said.
Sushma Swaraj's visit would "pave the way for Prime Minister Narendra Modi's early visit to Nepal", said Akbaruddin, declining to reveal when Modi would be travelling to Kathmandu.
She would be meeting Nepal President Ram Baran Yadav, Prime Minister Sushil Koirala and a cross-section of the Nepali political leadership.
She is also likely to meet Prachanda, leader of the Unified Communist Party of Nepal (Maoist).
In view of the wide scope of the joint commission, Sushma Swaraj would be accompanied by a high-level delegation that would include top officials of several ministries ranging from power to railways and human resource to culture.
India is working on a Nepal proposal for a railway network in the Himalayan country.
Akbaruddin said the proposal has been on the table for some time and railway ministry officials would take it forward during Sushma Swaraj's visit.
Besides the joint commission, India has 25 bilateral mechanisms with Nepal where both sides are interacting on a regular basis.
Bilateral trade stands at $4.7 billion. India accounts for 47 percent of foreign direct investment in Nepal. There are six million Nepali workers in India.