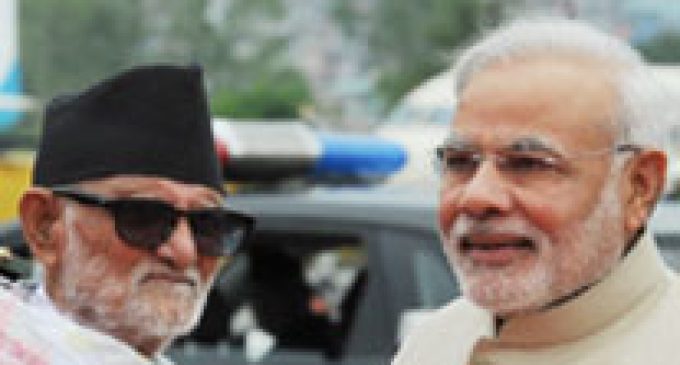 Kathmandu, Aug 4 India and Nepal Monday agreed to "review, adjust and update" a 1950 bilateral friendship pact and not to let "unscrupulous elements" misuse their open border to pose threats to the two countries.
A joint statement issued at the end of Indian Prime Minister Narendra Modi's two-day visit also said that Nepalese Prime Minister Sushil Koirala had agreed to visit India — at Modi's invite.
The four-page statement said talks between Modi and Koirala and their delegations "were held in an atmosphere of utmost warmth and cordiality and were marked by deep friendship and understanding".
The two prime ministers "expressed satisfaction over the excellent state of Nepal-India relations (and) underlined the need to further explore ways to enhance sub-regional cooperation".
In what is viewed as a major decision, the two sides agreed to "review, adjust and update" the Treaty of Peace and Friendship of 1950 as well as other bilateral agreements.
Kathmandu will provide proposals to revise the 1950 pact.
"Both sides agreed that the revised treaty should better reflect the current realities and aim to further consolidate and expand the multifaceted and deep-rooted relationship in a forward looking manner."
Signed in Kathmandu in July 1950, the treaty calls for free movement of people and goods between both countries. In Nepal, however, the treaty is unpopular in sections of the society.
The statement said that Nepal and India "will not allow their territory to be used against each other".
Both prime ministers noted with satisfaction "the excellent cooperation on security related matters".
They directed officials "to make sure that the open border, which has facilitated movement of people … and has been a unique feature of Nepal-India relations, is not misused by unscrupulous elements posing security threats to either side".
India and Nepal also agreed to finalize the texts of an extradition treaty and a Mutual Legal Assistance Treaty (MLAT) at an early date.
India said it would help build a dharamshala or rest house for pilgrims at the famed Pashupatinath temple here and help preserve old monuments in the complex.
The temple, where Modi prayed Monday, is located on the banks of Bagmati river and is the oldest Hindu shrine in Kathmandu.
India also offered to assist in developing holy sites such as Janakpur, Baraha Chhetra and Lumbini, and link Lumbini — the birthplace of Buddha — with the Buddhist circuit of India.
Nepal expressed its desire to resolve all outstanding boundary issues.
The agreement reiterated India's pledge to provide a soft credit line of $1 billion to execute development and energy projects.
India has decided to take up building a petroleum pipeline from Raxaul in Bihar to Kathmandu.
The two countries also decided to engage themselves in a series of infrastructure projects, including a bridge over Mahakali river that would link western Nepal better with Uttar Pradesh and Uttarakhand.