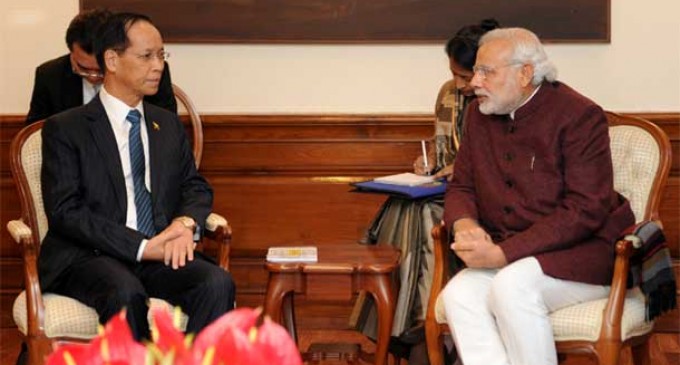 New Delhi, Jan 21 India and Myanmar Wednesday discussed ways to boost bilateral ties in view of the Indian government's 'Act East' policy, particularly in connectivity, education, infrastructure and trade.
This was discussed at a meeting between Prime Minister Narendra Modi and Myanmar First Vice President Sai Mauk Kham here.
Modi recalled his first visit to Myanmar in November to attend the ASEAN-India Summit and East Asia Summit and his first meeting with President U Thein Sein.
Welcoming Kham's visit to Bodh Gaya, Modi highlighted the importance of cultural ties and the civilizational links between the people of India and Myanmar, said an official statement.
Kham conveyed his appreciation of the transformation of India's 'Look East' policy to 'Act East'.
During his talks with Vice President Hamid Ansari, both sides agreed to work together to thwart insurgent groups operating in the northeastern region of India.
Kham arrived in India Monday on a five-day visit at the head of a high-level delegation.
Myanmar is the only Association of Southeast Asian Nation (Asean) country to share a land border with India – the Indian states of Nagaland, Arunachal Pradesh, Manipur and Mizoram.
Bilateral trade has grown from $12.4 million in 1980-81 to $2.18 billion in 2013-14.