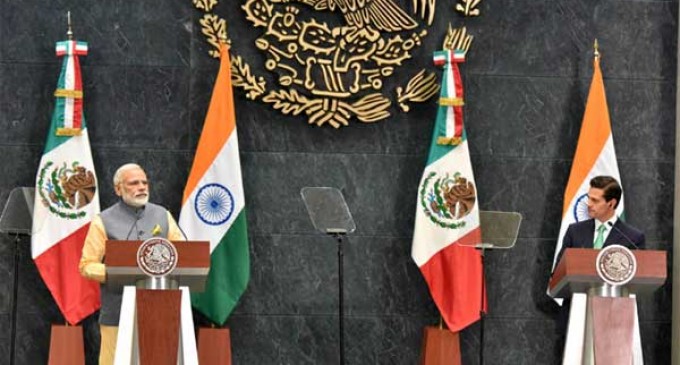 Mexico City, June 9  India and Mexico have agreed to elevate their 'Privileged Partnership' into a strategic one during talks between Prime Minister Narendra Modi and Mexican President Enrique Pena Nieto here during which Mexico also extended support for India's NSG bid.
Mexico has also extended support to India's International Solar Alliance initiative, which was launched at the Paris climate talks last year.
Modi, in a press statement after holding talks with Nieto, thanked him for his country's support to India's NSG membership and for the Solar Alliance.
"I thank President Pena Nieto for Mexico's positive and constructive support for India's membership of the NSG," he said.
"We have agreed to work and develop a roadmap of concrete outcomes to upgrade our ties to a Strategic Partnership," Modi said.
Both sides discussed ways to boost trade and investment. Modi was in Mexico City on a five-hour working visit.
Modi said the Central American country is an important partner for India's energy security.
"We are now looking to move beyond a buyer-seller relationship, and into a long-term partnership."
"There is potential to expand our commercial and investment, and Science and Technology partnerships in new areas," Modi said, adding that both sides agreed to find ways to deepen cooperation in Space, and science and technology.
"We will also prioritise concrete projects in areas of agricultural research; bio-technology; waste management; disaster warning and management, and solar energy. I would like to particularly thank President Pena Nieto for his support to the International Solar Alliance. It will transform the global canvas for solar technology, especially for developing and Small Island Developing countries," he said.
According to a joint statement, both sides underscored the increasing importance of diversifying the economic exchanges to promote trade and investment to a level corresponding to their true potential.
Both sides stressed the necessity of developing a greater connectivity between the two countries and encouraging cooperation in the infrastructure sector, among small and medium enterprises, in pharmaceutical products, in energy, in the automobile sector, in Information and Communication Technology, in agriculture, in food processing and in other related sectors.
Both sides agreed to explore ways and means to boost the objectives of the International Solar Alliance.
The two countries also welcomed collaboration in space science, earth observation, climate and environmental studies, and the efficient use of space-related resources available in India as well as in Mexico for remote sensing, advance warning for disaster prevention and launch of satellites between the Mexican Space Agency (AEM) and the Indian Space Research Organisation (ISRO), the joint statement said.
It pledged to continue promoting the shared goals of nuclear disarmament and non-proliferation as solutions with multilateral perspective, as well as to continue promoting cooperation on international security issues.
The countries also reiterated their strong condemnation of terrorism in all its forms and manifestations.
Both countries also reaffirmed the importance to have an effective multilateral system, with the United Nations at its core, and agreed on the importance of continuing supporting the progress in the process of comprehensive reforms of the United Nations Security Council.
Both sides committed to ratify the Paris Agreement as soon as possible, as well as to develop new and renewable sources of energy to meet the developmental challenges of their respective countries.
President Nieto invited the Modi to visit Mexico again on a State visit in the near future, and Modi to invited him to pay a State visit to India.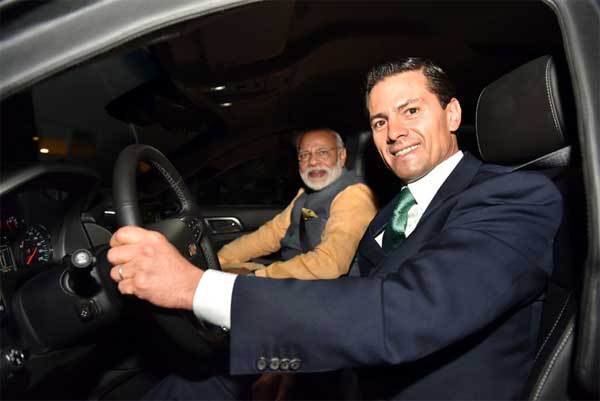 Later, President Nieto took Modi out for a flavour of Mexican vegetarian fare and, in a special gesture, personally drove him to a restaurant.
Mexico was the final stop in Modi's five-nation tour.