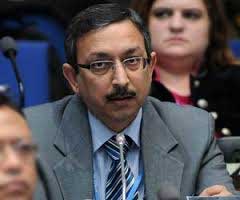 United Nations, April 28  Lack of funds and inadequate coordination among UN organisations is limiting peace-building efforts crucial to meet the challenges of conflicts in an inter-linked world, India has said.
India's Deputy Permanent Representative to the UN, Tanmaya Lal, on Wednesday called for "genuine political willingness" among those who can contribute to overcoming the challenges to effective peace-building.
Participating in a debate on the Peace-Building Commission and the fund, he noted that peace-building efforts could help avert conflicts and said: "The funds available for peace-building continue to be a fraction of what is available for peacekeeping activities and are even declining."
"Only more predictable and sustainable financing will help Peace Building Commission be more effective," he added.
Both the Security Council and the Assembly adopted resolutions asking all countries and other organisations to make voluntary contributions to the Peacebuilding Fund. They also asked Secretary General Ban Ki-moon to work with organisations like the World Bank to help the economic recovery in conflict-affected areas.
Lal also spoke of the success achieved in some areas through peace-building efforts. These included helping implement election reforms and building institutions. He noted that the campaign to control Ebola outbreak was a new area for the peace-building efforts.
In its resolution, the Council salso uggested better policy coherence and strategic planning across the UN for peace-building efforts.
Assembly President Mogens Lykketoft said the similar resolutions adopted by the Assembly and the Council showed "important developments in our common understanding of how best to approach peaceb uilding and conflict prevention". He added that the resolutions encouraged national ownership of peace-building programs and creating partnerships and to reduce fragmentation of UN efforts.