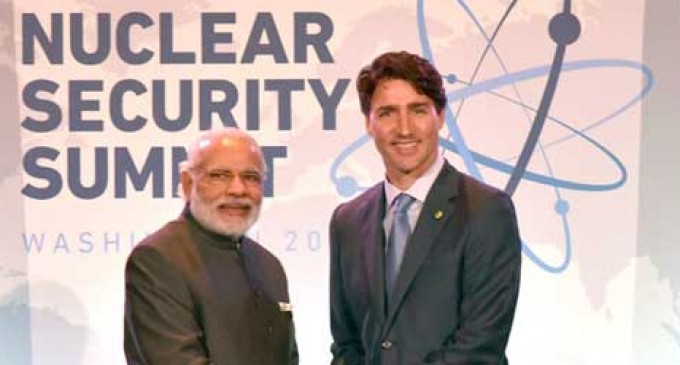 Washington, April 2  India on Friday invited Canadian faculty members to teach in its institutes of higher learning at short stretches.
Prime Minister Narendra Modi, during a bilateral meeting with his Canadian counterpart Justin Trudeau here on the sidelines of the Fourth Nuclear Summit here, said that Canada had a surplus of human resource capital.
"He said that Canadian professors and teachers, including retired faculty members, could consider coming to India during the harsh winter months in Canada and teaching at Indian universities for periods ranging from three to six months under the GIAN (Global Initiative of Academic Networks)," external affairs ministry spokesman Vikas Swarup said at a media briefing here following the meeting.
GIAN is a programme under the union human resources ministry that aims at tapping the talent pool of academia and scientists internationally to encourage their engagement with institutes of higher education in India.
Modi said that this would help India receive quality education, according to Swarup.
Trudeau concurred immediately, saying that he had himself been a schoolteacher.
"So there is a real potential, he said, for harnessing the opportunity of helping so many young people in India get better skills and Canada would also be happy to provide help in education and infrastructure support," Swarup stated.
During Modi's visit to Canada in April last year, a number of agreements on skill dvelopment were signed between India and Canada.
Modi also talked about the flagship development programmes in India.
"He talked about the 500 cities where, as you know renewable energy, infrastructure has to be built in terms of waste management, converting waste into energy," the spokesman said.
"He also talked about the smart cities project, the project to bring metro transport to as many as 50 cities in India and said that all this would lead not only to better quality of life for India citizens but also the introduction of ecologically friendly technologies."
Modi said that Canadian companies stood a very good chance to bag contracts if they were to invest in these sectors in India.
Trudeau, on his part, talked about Canadian expertise in environmental-friendly technologies, dealing with climate change, anti-poverty strategies, and innovations which could help the global economy, according to Swarup.
"Prime minister (Modi) said that poverty alleviation was an important plank for his government and till the benefits reach the last person in the society, we cannot say that we have been successful," the spokesman stated.
Modi also referred to the "progressive policies" in the hydrocarbon sector, in particular for deep sea and high temperature exploration, announced in the last union budget.
"He (Modi)said that these sectors have now been opened up. The sectors will be entirely market-driven and the policies would allow top companies from abroad to participate in the Indian market," Swarup said.
Trudeau talked about the possibility taking forward the Foreign Investment Promotion Agreement (FIPA) and the Comprehensive Economic Partnership Agreement (CEPA).
Modi also extended an invitation to Trudeau to visit India which the latter.
This was the first meeting between the two leaders after Trudeau became prime minister in November last year.
In his visit to Canada last year, Modi had met Trudeau who was the leader of the opposition then.