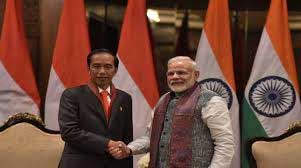 New Delhi, Jan 26 (IANS) Prime Minister Narendra Modi on Thursday held a bilateral meeting with Indonesia President Joko Widodo here on the sidelines of the India-Asean Commemorative Summit and discussed cooperation in the areas of trade, defence and maritime cooperation.
"Neighbours bound by culture and history," External Affairs Ministry spokesperson Raveesh Kumar tweeted.
Kumar said that Modi and Widodo "discussed intensifying ties in trade and investment, defence and maritime cooperation".
Indonesia is the largest trading partner of India in the Association of Southeast Asian Nations (Asean) regional bloc.
Bilateral trade between the two countries has increased from $4.3 billion in 2005-06 to $17 billion in 2016-17.
The Asean comprises Brunei, Cambodia, Indonesia, Laos, Malaysia, Myanmar, the Philippines, Singapore, Thailand and Vietnam.
Thursday's meeting was held on the margins of the Commemorative Summit to mark 25 years of the India-Asean Dialogue Partnership.
Indonesia's capital Jakarta houses the Asean secretariat.
Earlier in the day, Modi also held bilateral meetings with Thailand Prime Minister Prayut Chan-o-cha, Singapore Prime Minister Lee and Sultan of Brunei Hassanal Bolkiah.
On Friday, Widodo will be among all the 10 heads of state or government of the Asean nations who participated in the Summit to attend this year's Republic Day celebrations collectively as guests of honour, an unprecedented first.