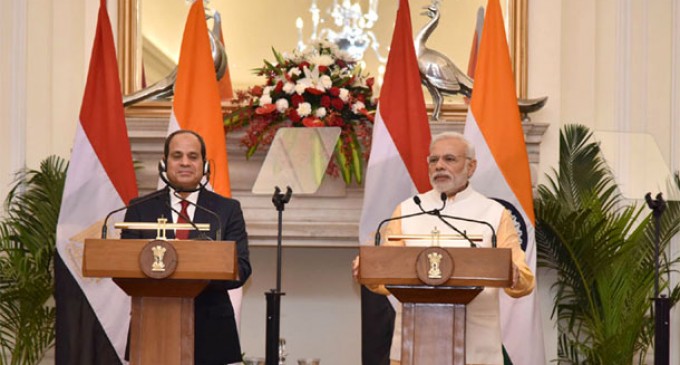 New Delhi, Sep 2 (IANS) Prime Minister Narendra Modi on Friday said that India and Egypt will cooperate in the fight against terrorism through greater information and operational exchanges while calling upon the Indian private sector to build new businesses in the African nation.
"President and I are of one view that growing radicalisation, increasing violence and spread of terror pose a real threat not just to our two countries, but also to nations and communities across regions," Modi said in a joint press statement with Egyptian President Abdel Fattah Al-Sisi following delegation-level talks.
"In this context, we agreed to further our defence and security engagement which would aim at: expanding defence trade, training and capacity building; greater information and operational exchanges to combat terrorism; cooperation on emerging challenges of cyber security; and working together to fight drug trafficking, transnational crimes and money-laundering," he stated.
Describing Egypt as a "natural bridge" between Asia and Africa, Modi said: "Your people are a voice of moderate Islam. And, your nation a factor for regional peace and stability in Africa and the Arab world."
The Prime Minister said that he and President Sisi have agreed on an action oriented agenda to drive the two countries' engagements.
"An agenda that responds to our socio-economic priorities, promotes trade and investment ties; secures our societies, helps build peace and harmony in our region; and advances our engagement on regional and international issues," he said.
Modi said that he and Sisi have agreed to build India-Egypt ties on multiple pillars of cooperation.
"We recognised that strong trade and investment linkages are essential for economic prosperity of our societies," he said.
"We, therefore, agreed that increased flow of goods, services, and capital between our two economies has to be among our key priorities."
Modi said that the agreement on cooperation in maritime transport that was signed on Friday following the delegation-level talks would be an important facilitator.
"I would also urge our private sector to take the lead in building new business and commercial partnerships between the two countries," he said.
"To diversify the portfolio of economic engagement, we will also deepen our cooperation in agriculture, skill development, small and medium industry and health sectors."
On the global level, he said India appreciated the "good work" Egypt has been doing during its current term on the UN Security Council.
"Our decision to consult more closely on regional and global issues, both at the UN and outside, will benefit our common interests," the Prime Minister said.
According to a joint statement issued after the delegation-level talks, both leaders welcomed the recent exchanges on security cooperation and counter-terrorism at the level of National Security Advisers, and welcomed the conclusion of a Memorandum of Understanding for cooperation between the two National Security Councils.
They also noted with satisfaction that the Joint Working Group on Counter Terrorism met in January 2016 for joint efforts in combating terrorism, it said.
Modi expressed gratitude to Sisi and the Egyptian government for the repatriation in 2015 of the six Indian seamen who were detained in Egypt for two years.
The two leaders welcomed the expansion of Indian investment in Egypt, which is currently about $3 billion, and agreed that all investment related issues should be addressed in order to further boost bilateral trade and investments, according to the statement.
Sisi arrived here on Thursday on a three-day official visit to India at the invitation of President Pranab Mukherjee.
This is the first bilateral presidential visit from Egypt to India since the visit of then President Mohamed Morsi.
Sisi visited New Delhi last October to attend the India Africa Forum Summit.
He described the ties between his country and India as old and "very resilient" when External Affairs Minister Sushma Swaraj called on him soon after his arrival on Thursday.
In an interesting diplomatic development, US Secretary of State John Kerry, who extended his here after attending the India-US Strategic and Commercial Dialogue, also had a meeting with the Egyptian leader on Thursday.
Earlier on Friday morning, Sisi was accorded a ceremonial welcome at the Rashtrapati Bhavan.