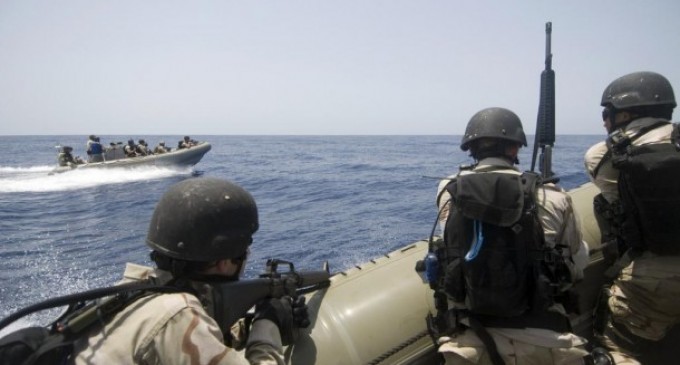 Bhubaneswar, March 20 External Affairs Minister Sushma Swaraj on Friday said India was committed to maritime security, freedom of navigation, unimpeded lawful commerce and peaceful settlement of disputes in the Indian Ocean region.
"We have been working with like-minded countries to preserve the integrity, inviolability and security of maritime domain which is a global commons. We are committed to maritime security, freedom of navigation, unimpeded lawful commerce and peaceful settlement of disputes in accordance with international law," she said addressing an international conference on India and Indian Ocean here.
She said the region has been a focus of India's foreign policy.
The minister also said the government has advocated collective action and cooperation in the region to make the seas safe, secure and free for all.
"We strongly believe that those who live in this region have the primary responsibility for peace, stability and prosperity in the Indian Ocean. At the same time we recognise that there are other nations, who may have strong interests or presence in the region," Sushama Swaraj said.
She said even though there has been sustained economic growth in the countries, at the same time the region is witnessing non-traditional threats such as natural disasters, piracy, terrorism, illegal fishing, oil spills and effect of climate change.
"We look forward to building closer cooperation in the maritime domain, regularising bilateral maritime exercises and strengthen the dialogues between the naives and the coast guards with all littoral countries in the Indian Ocean Region," said Sushama Swaraj.
Stating that the region witnessed a significant rise in services trade, she said the full potential of intra-regional trade remains untapped because of poor communication and transport links, lack of information about supply capabilities, among other barriers.
Similarly, the intra-regional investment is still negligible despite tremendous potential. Deepening of regional economic integration may help in exploiting this hidden potential of intra-regional cooperation for mutual benefit, said the minister.
"Time has come that the countries in the region consider evolving a common regional standard to promote intraregional trade. Some mechanisms need to be evolved to address the challenges and hindrances in the way of trade growth to ensure that intra-regional trade becomes significant to make the overall economic performance of IORA vibrant," Sushama Swaraj said.
Meanwhile, Odisha Chief Minister Naveen Patnaik said there was need to use the opportunity to reclaim trade and cultural relations with nations in the Indian Ocean Region.
"Therefore, we must develop a comprehensive geo-strategic policy that promotes mutually beneficial engagements on an umbrella of issues relating to trade, culture, security and environment," said the chief minister.
He said Odisha can play a very significant role in this new paradigm.
Petroleum Minister Dharmendra Pradhan said India was prepared to play a key role in the affairs of Indian Ocean Region.
He said there was need for cooperation among the countries for revival of trade and cultural linkage with Odisha and the country.