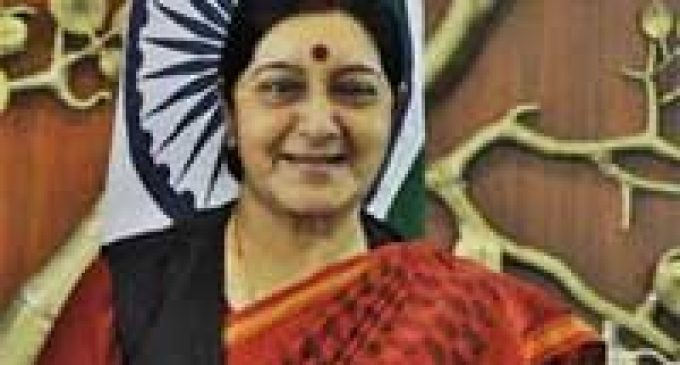 New Delhi, Aug 21 Emphasizing the government's "unflinching commitment" to expand ties with the Arab world, External Affairs Minister Sushma Swaraj Thursday said there was no change in India's policy of "extending strong support to the Palestinian cause, while maintaining good relations with Israel".
Addressing the inaugural session of the First India-League of Arab States Media Symposium here, Sushma Swaraj told the Arab delegates that India's ties with the Arab world "is pivotal to our national development goals as well as regional peace and stability".
She underlined the Narendra Modi government's "unflinching commitment to sustaining and expanding relations with the Arab world that is bound to us by centuries-old cultural and civilizational ties".
"We see West Asia as a vital part of India's extended neighbourhood. The region, situated at the crossroads of Asia, Africa and Europe, is crucial to our national interests in myriad ways."
She said that "continued peace and stability in the region is in India's mutual strategic interest. India has been watching post-Arab Spring developments very closely…India remains ready to provide any support, but strongly believes that it is for the Arab countries to decide their destiny, without any external interference or diktats from outside."
On the Modi government's stand on the conflict in Gaza, she told the delegates: "Let me clarify India's position on the ongoing Israel-Gaza conflict that has created conflicting interpretations in sections of the media.
"On such a sensitive issue, there is no room for confusion or misunderstanding. Let me repeat, and underline, once again: There is no change in India's policy of extending strong support to the Palestinian cause, while maintaining good relations with Israel. India is deeply concerned at the loss of large number of civilian lives in Gaza.
"We have called on both sides to exercise maximum restraint and work towards a comprehensive resolution of the Palestinian issue. Apart from strong political support to the Palestinian cause at international, regional and bilateral levels, India has been contributing budgetary, economic and developmental assistance to Palestine and its people."
The Modi government's refusal to have a parliament resolution condemning Israel for the bombardment in Gaza had attracted a lot of flak.
Emphasising India's strong links with West Asia, she said the region accounts for over 60 percent of India's oil and gas requirements. The over seven million-strong Indian diaspora that works there "has enriched the region with their enterprise, untiring energy and dedication. In the Indian idiom 'Bharat' is their 'Janm Bhoomi', the Gulf is their 'Karm bhoomi'", she said
"These seven million Indians have formed a powerful bridge-builder and economic connector, and send home more than $40 billion in remittances annually."
The Arab world is India's largest trading partner, with bilateral trade increasing to over $180 billion in 2012-13, with oil dominating India's imports. But newer areas of economic cooperation have been identified. Travel and tourism are booming with 700 flights a week between India and the UAE alone.
She pointed out India's infrastructure sector as a major growth area for Arab investments. Sushma Swaraj said the Modi government has made infrastructure upgrade and the creation of smart cities major national priorities.
"In this context, the sizable Sovereign Wealth Funds of Gulf countries can offer significant platform for operations of Indian companies and prove to be a game-changer in India's quest for world-class infrastructure."
She said the media symposium was a good way to keep engaged about the developments taking place in each other's regions.
Haifa Abu Ghazaleh, assistant secretary general head of media and communications of the League of Arab States, said the fourth Arab-India Partnership Conference slated to be held in India later this year would boost Arab-Indian economic cooperation.
"In the League of Arab States, we are keen to promote the Arab-Indian friendship, to enhance cooperation and exchanges at all levels and in all forms, and to coordinate positions of the two parties in all the issues of common interest. We should go beyond the borders of dialogue and discussion," she said.