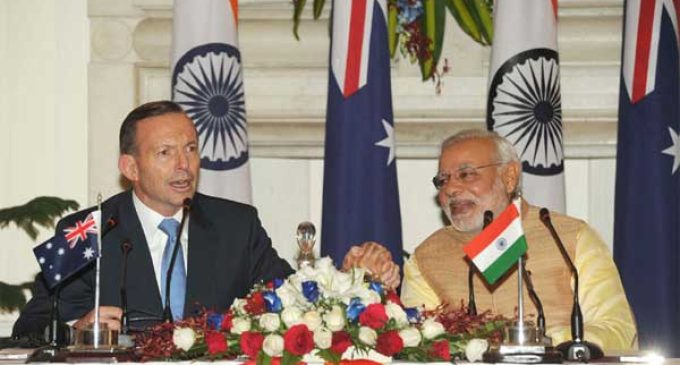 New Delhi, Sep 5 India and Australia Friday inked a long-awaited civil nuclear agreement to enable Australia to export uranium to energy-starved India and also agreed to step up their political, security and defence cooperation as visiting Australian Prime Minister Tony Abbott held talks with his counterpart Narendra Modi here.
Abbott, the first head of state to pay a bilateral visit under the new NDA government, also brought with him two Chola period artefacts that were stolen from temples in Tamil Nadu. The return of the Nataraja and Ardhanarishwara statues from the 11th century AD were appreciated by Modi.
The Australian prime minister, who arrived in India Thursday, said the civil nuclear energy agreement was inked as "Australia trusts India to do the right things in this area as it has done the right thing in every area since its independence 70 years ago" and "that is why we are happy to trust India with a uranium treaty".
Addressing a joint media interaction with Modi after both sides inked four agreements, including in water resources and sports, Abbott said both countries would work to strengthen their trade relations and also focus on areas like energy, food and education.
Modi termed the inking of the civil nuclear agreement as "a historic milestone in our relationship" and reflection of a "new level of mutual trust and confidence" in bilateral ties.
He said the agreement would support India's efforts to fuel its growth with clean energy and minimize the carbon footprint of its growth.
Modi said he and Abbott have decided to enhance their political dialogue and increase their security and defence cooperation.
He said he has accepted Abbott's invitation to pay a bilateral visit to Australia after the G20 Summit in November, remarking that there has been no prime ministerial visit from India to Australia since 1986.
Both sides will hold their first bilateral naval exercise in 2015 and intend to enhance their exercises in the coming years, he said.
In the field of trade and investment, Modi said Abbott has assured of speedy clearances for Indian investment proposals in the pipeline. "I invited Australian investments into India, including in infrastructure and high technology areas."
He said India is concerned about the decline in bilateral trade and is committed to early conclusion of the Comprehensive Economic Cooperation Agreement (CECA).
Earlier, Abbott pledged $20 million to facilitate partnership between the two countries in the health sector during a visit to the All India Institute of Medical Sciences (AIIMS) Trauma Centre here.
Abbott, who was in Mumbai Thursday, met Modi here in the morning and finalized the civil nuclear deal.
During the meeting, he gifted a Nehru jacket made of Australian wool to Modi, who in return presented him a copy of the Gita.
Abbott called on President Pranab Mukherjee at the Rashtrapati Bhavan in the morning and said he was "determined to do whatever he can to strengthen an already deep friendship".
"Australia recognizes India's increasing importance in the world," Abbott said while describing India as an emerging democratic superpower.
Australia, which holds almost a third of the world's known uranium reserves, had banned exporting uranium to India as New Delhi is not a signatory to the Nuclear Non-Proliferation Treaty.
But the countries have been negotiating a nuclear safeguards agreement since 2012 and have held five rounds of negotiations. Ahead of his India visit, Abbott had told his parliament that he expects to ink the nuclear cooperation agreement with the Modi government.
Abbott is accompanied by a business delegation of around 30 people.
The MoU on Water Resources Management is significant as Australia has water technology expertise and has expressed keenness to contribute to the Modi government's Clean Ganga project.
Addressing a business meet in the morning, Abbott said: "Both PM Modi and I wish to be known as infrastructure PMs and the G20 will focus on mobilizing private capital to address the world's infrastructure deficit."
He said his government was streamlining student and working visa arrangements to make it easier for Indians to study and work in Australia.
Over 36,000 Indian students study in Australia, mostly in vocational institutes.