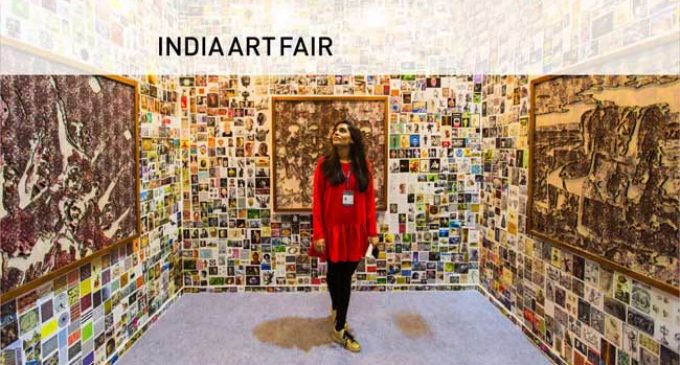 New Delhi, Feb 10 (IANS) From the master strokes of prominent artists to the contemporary installations, the India Art Fair (IAF), which began here on Friday, offers a heaven for art connoisseurs, exhibitors and art lovers not only from the country but from its neighbours too.
Taking place annually at the NSIC ground here, the fair is a reflection of the fast-developing arts scene in the country, offering curated insights into its varied cultural landscapes.
The four day programme – which draws together galleries and artists, private foundations and arts charities, artists' collectives, national institutions, cultural events and festivals – also enables international audiences to engage in innovative ways with the cultural history and development of the region.
Not just for Indian artists, but the art fair is being considered as a major platform for artists coming from neighbouring countries like Nepal and Bangladesh.
The Nepal Art Council, which has been participating for the past few editions, feels that the IAF has brought them into limelight, especially in the South Asian belt. Collectively the selected art works for IAF make a picturesque mosaic of multi-layered themes portrayed by contemporary Nepalese artists.
"Contemporary art still doesn't have that strong hold in Nepal as compared to India. India Art Fair is a platform for us to highlight the growing contemporary artists. We may not have a good sale but have succeeded in grabbing the attention of exhibitors from various countries," Sagar Rana, Vice President, Nepal Art Council told IANS.
"We showcase works of seven new artists every year. Our display of works may be less compared to other exhibitors but even the limited collection speaks for itself, there lies a story in every art work," he added.
This year, Nepal is showcasing works of artists Chirag Bangdel, Jeevan Rajopadhyay, Mekh Limbu, Rabindra Shrestha, Sabita Dangol, Sujan Dangol and Sunita Maharjan. Artist Rabindra Shrestha's work which showcases thumbprints of many individuals explains the similarities as well as differences of people, has been drawing much appreciation.
"Ninety per cent of our work is committed to some motive; through our work we evoke a hope of peace and prosperity amidst the contemporary socio-political crisis. Nepal is a small country and little is known about the contemporary art and artists, nobody would have even imagined about it," Rana said.
Similar thoughts were pitched by exhibitors coming from Bangladesh which was represented by Britto Arts Trust.
"There is no appreciation of contemporary art work in Bangladesh, also majorly because people are not even aware of concepts like sculptures, installations or modern paintings. Our community still doesn't consider them as art. We donot have much art galleries that promote work of artists," said Promotesh Das Pulak.
"The idea of participating here is to get art across other countries. We are getting offers from Indian art galleries to display our work here. It is a big opportunity for us to get the contemporary art of Bangladeshi artists on a larger platform," he said.
Founded in 2008, India Art Fair is one of South Asia's leading platform for modern and contemporary art.