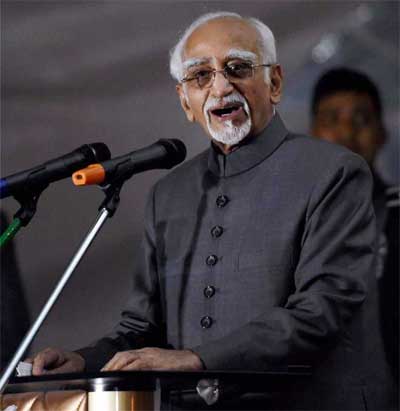 Lagos (Nigeria), Sep 30  Vice President Mohammad Hamid Ansari on Thursday said a shared struggle against colonial rule provides the foundations of India-Africa partnership and "mutually beneficial engagement" will take the relationship to a "strategic level".
Addressing students and faculty members of the University of Lagos here, Ansari said India, the largest democracy in the world, rejoices at the gains made by Nigerian democracy, the largest democracy in Africa, in the past 18 years.
"Our shared struggle against the colonial rule provides the foundations of India-Africa partnership. This mutually beneficial engagement continues to inspire and strengthen as we embark on elevating this partnership to a strategic level for the benefit the peoples of Africa and India," he said.
Saying that each country and people shape their destiny in their own unique way, informed by their own historical experience and their own genius, the Vice President said independent India is a faithful reflection of the legacy of its national movement.
"The image of the modern Indian nation and the values that shape and continue inform it today, were cast in the crucible of our struggle for independence from colonial rule or what we now call the Indian National Movement. Much of the gain from the movement is enshrined in our Constitution and continues to enlighten the political and judicial discourse in India," he said.
Elaborating how Indian national movement was more than a struggle for independence, the Indian leader said that it was an exercise in building a nation.
"It was not just a movement to replace a colonial regime and deliver political power to Indians but was aimed at using that power to secure social and economic justice, and dignity, for every Indian," he said.
He said the Indian national movement is also an example of how the constitutional space offered by the existing structure could be used without getting co-opted by it. It did not completely reject this space – but entered and used it effectively in combination with political mobilization to overthrow the existing structure.
"The movement is perhaps one of the best examples of the creation of an extremely wide movement with a common aim in which diverse political and ideological currents could co-exist and work, and simultaneously continue to contend for overall ideological and political hegemony over it," he added.