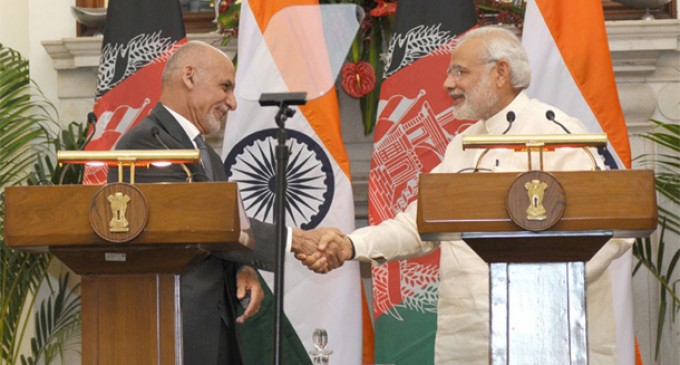 New Delhi, April 28 India and Afghanistan on Tuesday pledged to work together to fight terrorism and also boost bilateral trade and connectivity as Prime Minister Narendra Modi held talks with visiting Afghan President Ashraf Ghani here.
Ghani, whose country continues to battle the Taliban menace after the drawdown of the US-led international forces, spoke out strongly against terrorism.
"Terror must be confronted and must be overcome… we are determined to make Afghanistan the graveyard of terror."
Ghani, who arrived here on Monday night on a three-day official visit, pushed for a regional framework of peace and cooperation in order to fight the "disease of terror" and cure it "lock, stock and branch".
"Terror cannot be classified into good and bad, it cannot be differentiated. We must have a unified approach, and we must be united in the region and globally to contain the phenomenon."
The joint statement noted that there is no justification for acts of terrorism and both leaders expressed determination to work together, along with the international community, to combat and defeat the scourge of terrorism in all its forms and manifestations.
They called on the international community to severely deal with the safe havens for terrorists that continue to threaten regional and global security.
Prime Minister Modi, in his speech, said that the success of an Afghan-led and Afghan-owned process "requires a positive and constructive approach from neighbours, including an end to support for violence" – in a reference to Pakistan, where the Taliban are believed to be harboured along the border.
"We share Afghanistan's pain over persisting terrorism and extremist violence that destroy lives and derail progress," he said, and also thanked Ghani for the bilateral cooperation against terrorism.
Modi said that India is ready to walk "shoulder to shoulder" with Afghanistan and also backed Ghani's vision of making Afghanistan the hub of connectivity in the region.
Both sides reaffirmed their commitment to work towards strengthening the India Afghanistan Strategic Partnership "with a clear focus on the long term relationship between the two countries," the joint statement said.
Modi said India is ready to welcome Afghan trucks at the Attari check post and also join the Afghan-Pakistan Trade and Transit Agreement. He also pledged to take the Chahbahar Port project in Iran forward.
India will expand its development partnership in Afghanistan and also explore new trade and investment opportunities, he added. Both sides also agreed to to work towards a more liberalized business visa regime.
Stressing that India and Afghanistan are "bound by million ties through millennia", Ghani spoke of the need to boost the potential of the South Asian Association for Regional Cooperation (SAARC).
He said his vision was to recreate his country's position as a "roundabout" where ideas, people and goods from South and Central Asia came, merged and transited. Afghanistan would be a place where the energy of Central Asia will flow to South Asia, as well as pipelines, fibreoptics and connectivity, he said.
Citing Rabindranath Tagore's iconic "Kabuliwala", he said he wanted to thank the Nobel laureate who has "done more to give us a brand" than any advertisement could ever bring. Expressing delight that novel continues to be popular in India, he said that a "new version is being prepared to give a much more authentic setting inside Afghanistan".
Ghani welcomed India's decisions to provide support to the Habibia School, located in Kabul over the next 10 years, contribution to the Afghan Red Crescent Society's program to treat Child Congenital Heart disease (CHD disease) over the next five years, and support a program of the 'Indira Gandhi Institute of Child Health (IGICH) in Kabul over the next 5 years,said the statement.
He also thanked India for gifting of three multi-role Cheetal helicopters in April 2015.
The two leaders agreed to sign six documents within three months of the visit, including an extradition treaty and an agreement on transfer of sentenced persons, a Motor Vehicles Agreement and a MOU on visa free entry for holders of diplomatic passports.
Ghani also invited Modi to Kabul for the inauguration of the parliament building being built by India as well as to the Bamiyan valley.