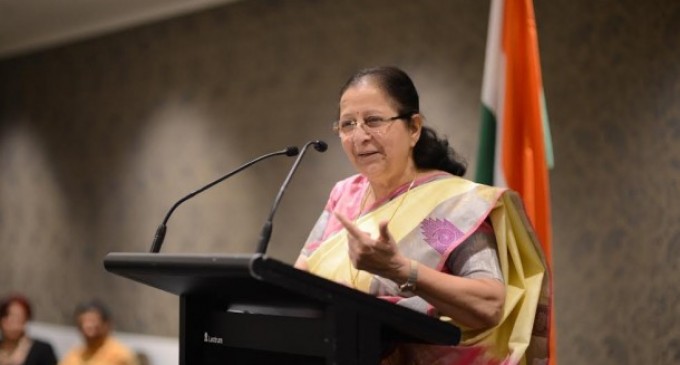 ​Auckland, 19 September 2016: Speaking at a programme organized by Mr. Mahesh Bindra, MP and Co-Chair of New Zealand Parliamentary Friendship Group for India, Lok Sabha Speaker Smt. Sumitra Mahajan said that India, a strong votary of Vasudhaiv Kutumbkam, would always  stand firm against terrorism.  She reiterated her deep anguish at the martyrdom of the soldiers at Uri in Baramulla district and stressed that India would continue to engage international community in its fight against state-sponsored terrorism.
Smt. Mahajan noted that one of India's most remarkable achievements of the seven decades of freedom is that it has not only sustained but also reinforced a vibrant system of governance based on parliamentary democracy, along with its commitment to secularism and inclusive and equitable development. Since Independence, the Indian people have shown tremendous zeal and enthusiasm for participation in the electoral and governance processes, and thereby have greatly helped in the establishment and strengthening of the largest representative democracy in the world, she observed. Keeping in view the shared values of democracy and good governance, India and New Zealand would be able to take their relationships to new heights, she hoped.
Since India is emerging as one of the fastest growing economies in the world, Smt. Mahajan called upon the two countries to strengthen their economic ties. She emphasized that India and New Zealand should make sincere efforts to tap the full potential of their trade and economic engagements.
Smt. Mahajan, who is leading an Indian Parliamentary Delegation to New Zealand, acknowledged that  the exchange of visits of senior government functionaries, parliamentary delegations and the Friendship Groups provides an ideal platform to exchange views on issues of mutual concern.