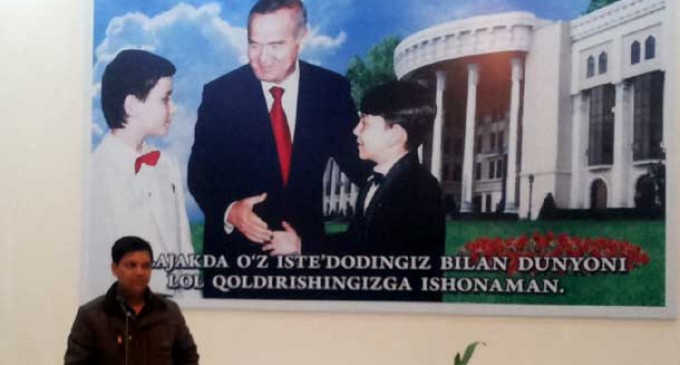 Tashkent, December 25, 2014 Parliamentary Election in Uzbekistan were successfully concluded with the liberal Democratic Party getting maximum seats.
47 members were elected from the Liberal Democratic Party, 28 from the Democratic Party Milliy Tiklanish, 21 from People's Democratic Party and 17 from the Social Democratic Party Adolat.
A large number of international observers were in Uzbekistan followed the parliamentary elections by visiting various regions of Uzbekistan. There were more than 300 observers from 40 countries.
9 member Indian delegation comprising of political leaders like Vijay Jolly, Senior BJP Leader & Convenor of Foreign Cell of BJP and Sunil Shastri, Senior Congress Leader and son of former Indian Prime Minister, late Shri Lal Bahadur Shastri, academicians, retired bureaucract and mediapersons visited various regions of Uzbekistan as international election observers.
Ameya Sathaye, Editor-in-Chief of Diplomacyindia.com which was also part of the delegation were impressed and congratulated the election commission for conducting the elections in a very professional manner.
It had a opportunity to visit Fergana region which is situated in the eastern part of Uzbekistan to see the entire Uzbek Parliamentary election polling process. At all the polling station there was a line which was really inspiring and though provoking written in Uzbek language which mean "Election is the Mirror of Democracy"
Polling turnout was more than 95 % with around 60 % young population participating in the election process.
The most significant feature of the Uzbek Parliamentary elections process was a dedicated place for medicial checkup and kinder room to take care of children while there mother go for casting there vote at the polling station. The number of people who could vote in a particular polling station were around 1200 to 2000 which turned out to be very convenient in the overall conduct of elections which was peaceful and conducted in a fair manner.
4 major political parties participated in the recently conducted Uzbek Parliamentary Elections. A major difference which was notice in this elections as compared to elections conducted in India, was the entire screening of candidates was done by the political party before nominating the candidate to the Election Commission.
In contrast, it is Election Commission of India, who does the entire screening of candidates before clearing the names of all the candidates nominated by the political parties.
Diplomacyindia.com Editor-in-Chief interacting with Mirza-Ulugbek Abdusalomov, the chairman of the Central Electoral Commission of Uzbekistan said all activities in the framework of election campaign are being were held openly and transparently in strict compliance with legislation.
A major initiative of this election was the advance voting arranged for the voters who cannot be present at their place of residence on the elections day. In cases where individual voters, because of their health or other reasons cannot come to the polling station, precinct electoral commissions will arrange for them to vote at the place of their stay.
Political parties and the candidates for deputy were provided broad and equal opportunities to make use of the media. For the purposes of election campaigning, they were provided equal amount of air time on state TV- and radio channels and equal amount of print space in the national and local press. Political parties had the opportunity to independently hold meetings with voters.
Talking to a young girl Atijanova Gulshoda, who was first time voter at a polling station in Kokaan city situated in Fergana region said "She is excited and we are face of the country and it is our duty to participate in country growth and development, the only way we could contribute it by participating in the polling process. She also said I have asked my friends to also come for polling."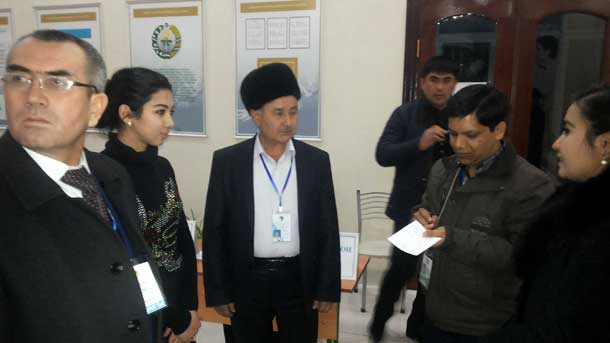 Speaking on the Parliamentary Elections in Uzbekistan, Indian Ambassador to Uzbekistan, Vikram Kumar Doraiswami said his impression was that "Elections gone off exceeding well, they were organised done with a plan, with a intension to taking forward the uzkek experiment to demorcracy, which was monitored by large group of international observers and with multiparty participation. It is the part of the evolution of the democractic process in this country and we wish uzbek people every success."
Commenting on the Uzbek elections, Former Indian Ambassador to Uzbekistan, Skand R Tayal (IFS..1976) who served from 2005-08 said " The democractic process was gradually becoming more deep and functional, arrangement at polling station was organised and every citizen who came to the polling station were well assisted especially disabled and young voters. Elections process was well conceived, well planned and organised."
Vijay Jolly, Senior BJP Leader and Convenor of Foreign Cell, BJP who was also part of the Indian Election Observer team for the Uzbek Parliamentary Elections said "It was a great honour and pleasure to be a international observer in the recently concluded Uzbek elections. After visiting the polling stations, he found the entire elections process which he described as 'battle of the ballot' was fair, balanced and was conducted in a very peaceful manner. He congratulated the President of Uzbekistan, Prime Minister and Election Commission and the people of Uzbekistan and wished for strong and vibrant democracy at all times. He also said that we all stand for closer India-Uzbek relations."