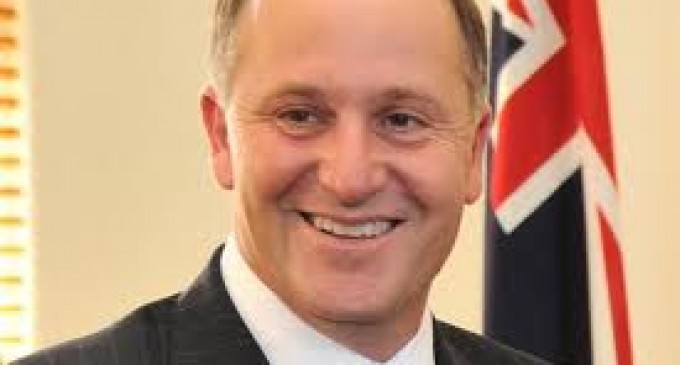 Wellington, Oct 16 (IANS) New Zealand Prime Minister John Key has said he's happy to see that under Narendra Modi's leadership, India has taken steps to renew focus on building its economy, and called for closer ties between the two countries.
In an email interview here, Key said closer economic and political ties between New Zealand and India would help both countries immensely.
"Prime Minister Modi has ambitious goals for improving India's economic prosperity. I am pleased to see the renewed focus on building India's economy," Key told IANS in response to a question on his impressions about Modi.
Key, who has led the nation since 2008, said "New Zealand, a small trading nation, wants to foster closer economic and political ties" with India.
The prime minister, who heads the New Zealand National Party, said the two countries have a "great and growing" relationship and it "is one we are very keen to develop further".
Key said India was New Zealand's second-largest source of international students and "our largest source of skilled migrants", and praised the large and growing Indian community in his country, pointing out that they make a huge contribution to New Zealand.
Hoping to visit India next year and meet Prime Minister Modi, he said he would be very pleased to host Modi in New Zealand. "Perhaps one day soon, I can tempt him down to attend an India/New Zealand cricket match," he added.
Key has maintained for long that films and sports are two routes to make inroads for New Zealand into the hearts of Indian travellers. To this end, Bollywood's young and dashing actor Sidharth Malhotra has been appointed as the country's tourism ambassador in India.
Sidharth even met Key here earlier this week, and they spoke about films, rugby, education, food and more.
Key praised Sidharth's appointment as the first Indian ambassador for Tourism New Zealand, and said this would help foster stronger bonds between the two countries.
"I am sure he will encourage Indian travellers to visit our lovely country," he said, adding that Sidharth, "a very nice young man", was passionate about adventure tourism and would show India some of the "amazing activities available here".
The actor has been experiencing that already — he has gone on the SkyWalk in Auckland and taken to skydiving, hot air ballooning and jetboating in Queenstown during his ongoing trip to the Pacific nation.
The prime minister said his country had much to offer, from its "beautiful scenery to unique cultural experience and outstanding food and wine".
He said they would love to see more Indians coming to visit. "We will ensure they have a great time. And, of course, we have had some brilliant movies made here already so I would encourage representatives of your film industry to come and have a look for themselves," the prime minister said.