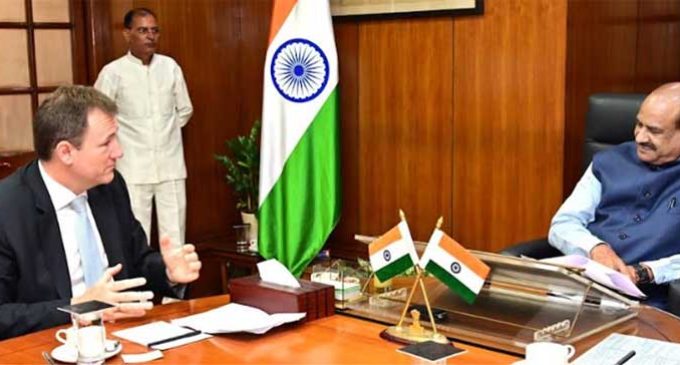 INDIA'S FIGHT AGAINST CLIMATE CHANGE WILL UNITE WHOLE WORLD AS ONE FAMILY: LOK SABHA SPEAKER/जलवायु परिवर्तन के विरुद्ध भारत का संघर्ष संपूर्ण विश्व को एक परिवार के रूप में जोड़गा: लोकसभा अध्यक्ष
…
DANISH PARLIAMENTARY COMMITTEE FOR EUROPEAN AFFAIRS CALLS ON LOK SABHA SPEAKER/डेनिश पार्लियामेंटरी कमिटी फॉर यूरोपियन अफेयर्स ने लोकसभा अध्यक्ष से मुलाकात की
…
New Delhi; 18 April, 2023: The Members of the Danish Parliamentary Committee for European Affairs, led by Chairman of the Committee, Niels Flemming Hansen called on Lok Sabha Speaker Om Birla at Parliament House, today.
Speaking on the occasion, Birla said that India is the largest democracy in the world and like Denmark, India is also a vibrant and mature democracy. Expressing the view that both the countries support peace, democracy and human rights, Birla emphasized on regular parliamentary exchanges between India and Denmark. Birla suggested that a regular process of dialogue should be developed between India and Denmark to ensure that both the Parliaments can learn from each other and share best practices.
In this context, Birla, referring to the visit of the Prime Minister of Denmark to India in 2021 and the visit of Prime Minister of India, Narendra Modi to Denmark last year, said that such high-level visits have further strengthened the relations between the two countries and they have given new vibrancy and robustness to bilateral relations.
Referring to the Green Strategic Partnership between India and Denmark signed in September 2020, Birla said that this partnership has improved coordination between the two countries and hoped that this would result in increased bilateral trade and investment in the times to come. Birla also said that while India is the 5th largest economy in the world today, there is plentiful potential for the two nations in areas of mutual interest such as global and regional security issues, trade and economic ties, research and innovation, and stronger people-to-people contact.
Birla informed the delegation that India has assumed the presidency of G-20 with the motto 'One Earth, One Family, One Future' and India's fight against climate change will unite the entire world as one family. He hoped that Denmark and India's commitment to democratic values would lead to a stronger partnership in international fora.
Birla informed the Danish delegation that India would also organize the P20 summit in the near future on the sidelines of the G20 Summit, which would be attended by the Presiding Officers of the Parliaments of other invited nations in addition to the G20 nations. He hoped that the Summit will see purposeful dialogue on the relevance of parliamentary governance and democratic values, which would serve to benefit the entire world.
---
नई दिल्ली; 18 अप्रैल, 2023: डेनिश पार्लियामेंटरी कमिटी फॉर यूरोपियन अफेयर्स समिति के अध्यक्ष श्री नील्स फ्लेमिंग हैनसेन के नेतृत्व में समिति के सदस्यों ने आज संसद भवन में लोकसभा अध्यक्ष श्री ओम बिरला से मुलाकात की।
इस अवसर पर बोलते हुए श्री बिरला ने कहा कि भारत विश्व का सबसे बड़ा लोकतांत्रिक राष्ट्र है और डेनमार्क की तरह भारत भी एक जीवंत और परिपक्व लोकतन्त्र है। यह विचार व्यक्त करते हुए कि दोनों देश शांति, लोकतंत्र और मानवधिकारों का समर्थन करते हैं श्री बिरला ने भारत और डेनमार्क के बीच नियमित संसदीय आदान प्रदान पर जोर दिया।
श्री बिरला ने सुझाव दिया कि भारत और डेनमार्क के बीच चर्चा-संवाद की एक नियमित प्रक्रिया विकसित हो ताकि हम एक दूसरे के लोकतंत्र से सीख सकें और अपनी बेस्ट प्रैक्टिसेज को साझा कर सकें। इस सन्दर्भ में श्री बिरला ने 2021 में डेनमार्क के प्रधानमंत्री के भारत दौरे और पिछले वर्ष भारत के प्रधान मंत्री श्री नरेंद्र मोदी के डेनमार्क दौरे का जिक्र करते हुए कहा कि इस तरह की उच्च स्तरीय दौरों से दोनों देशों के बीच संबंध और सुदृढ़ हुए हैं और संबंधों को नई ऊर्जा मिली है।
सितंबर 2020 में भारत और डेनमार्क के बीच शुरू हुई हरित रणनीतिक साझेदारी का जिक्र करते हुए श्री बिरला ने कहा कि इस साझेदारी ने दोनों देशों के बीच समन्वय को बेहतर बनाया है। उन्होंने आशा व्यक्त की कि आने वाले समय में इस साझेदारी से  द्विपक्षीय व्यापार और निवेश में बढ़ोतरी होगी। उन्होंने कहा कि आज जब भारत विश्व की 5वीं सबसे बड़ी अर्थव्यवस्था है, वैश्विक और क्षेत्रीय सुरक्षा संबंधी मुद्दों, व्यापारिक एवं आर्थिक सम्बन्धों, शोध एवं नवाचार, और दोनों देशों के लोगों के बीच सुदृढ़ संपर्क जैसे परस्पर हित के क्षेत्रों में दोनों देशों के बीच साझेदारी और सहयोग की पर्याप्त संभावनाएं हैं।
श्री बिरला ने बताया कि भारत ने 'एक पृथ्वी, एक परिवार, एक भविष्य के आदर्श वाक्य के साथ जी-20 की अध्यक्षता ग्रहण की है और जलवायु परिवर्तन के विरुद्ध भारत का संघर्ष संपूर्ण विश्व को एक परिवार के रूप में जोड़गा। उन्होंने आशा व्यक्त की कि डेनमार्क और भारत की लोकतान्त्रिक मूल्यों के प्रति प्रतिबद्धता अंतराष्ट्रीय मंचों पर एक सदृढ़ साझेदारी को बल देगी।
श्री बिरला ने डेनिश डेलीगेशन को सूचित किया कि भारत जी 20 समिट के अंतर्गत निकट भविष्य में पी 20 सम्मेलन का आयोजन भी करेगा जिसमें जी 20 राष्ट्रों के अतिरिक्त आमंत्रित राष्ट्रों के पीठासीन अधिकारी भाग लेंगे। उन्होंने आशा व्यक्त की कि इस सम्मलेन के दौरान संसदीय शासन व्यवस्था और लोकतान्त्रिक मूल्यों की प्रासंगिकता पर उद्देश्यपरक संवाद होगा जिससे सम्पूर्ण विश्व का कल्याण होगा।