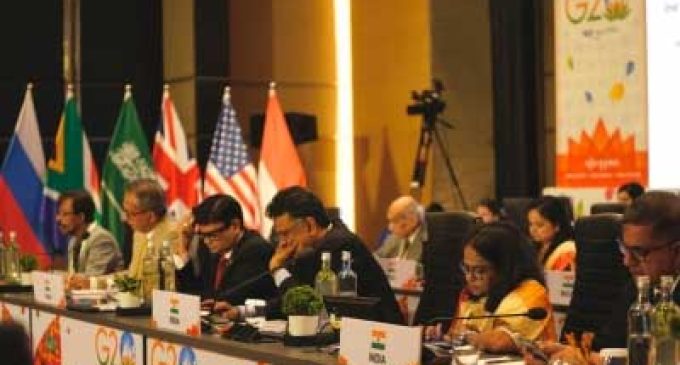 Amritsar, March 16 (IANS) G20 countries on Thursday emphasised on identifying and addressing problems that inhibit effective academic research collaborations.
On the second day of the three-day G20 Education Working Group (EdWG) summit in this Punjab city, the focus centred around priority areas Ato strengthen research and promoting innovation through collaboration and building capacities, and ensuring foundational literacy.
The event brought together all G20 member countries, invited countries and international organisations to discuss the importance of knowledge sharing and collaboration to generate solutions to common global challenges.
It was also acknowledged that in order to create a multiplier effect for a larger and more inclusive global advantage of the accumulated knowledge and innovation skills, there is now a need for stronger collaboration among countries in research and innovation.
Some of the topics covered included developing a framework for joint collaboration for the exchange of researchers and students, international research, data privacy, and other ethical concerns.
During the meeting, the delegates also emphasised gender equality and gender inclusion in research arena, as well as improved grassroots participation in order to bridge the gap between academia, the private sector, and society.
Additionally, in the second and third sessions, the discussion centred around use of blended learning to achieve foundational literacy and numeracy, the importance of teacher training to induce creativity in classroom teaching by designing learning materials and development of skill development frameworks.
Collaboration was again a key point of the session with discussions revolving around building partnerships with wider stakeholders, including industry, to create opportunities for vocational learning for students to bridge the skill gaps and imbalances across G20 nations.
Some of the sub-priority areas mentioned for joint action were to develop curriculum assessment and pedagogical practices, provide equal opportunities, and support to disadvantaged and indigenous communities.
The meeting concluded with remarks from the Alternate India chair, Atul Kumar Tiwari, Secretary, Ministry of Skill Development and Entrepreneurship, who emphasised that in order to achieve Sustainable Development Goal (SDG) 4 goal of "ensuring inclusive and equitable quality education and promoting lifelong learning opportunities for all, we must ensure that blended learning opportunities are accessible to all students".
The summit will conclude on Friday with discussion around making tech-enabled learning more inclusive, qualitative and collaborative.
On the sidelines of the seminar, an exhibition was also organised showcasing best practices from various countries, industry, academia and civil society towards forging greater collaboration for advancing research.
The exhibition is open to students, academicians and researchers till March 17.
At the exhibition, IIT Ropar showcased deployment of drones of agriculture company Syngenta for use in spraying crop protection solutions.
The company also displayed how it was empowering farmers by helping them save money, labour cost and time to enhance their income eventually.
The company's technologies enable millions of farmers around the world to make better use of limited agricultural resources, said Susheel Kumar, company's MD and country head.
In more than 100 countries the company is working to transform how crops are grown. "Through partnerships, collaboration and good growth plan we are committed to accelerating innovation for farmers and nature, striving for regenerative agriculture, helping people stay safe and healthy and partnering for impact," he said.
"One of our primary goals is to identify, develop and scale a series of innovative, breakthrough transformations that will enable farmers to increase their yields sustainably," he added.