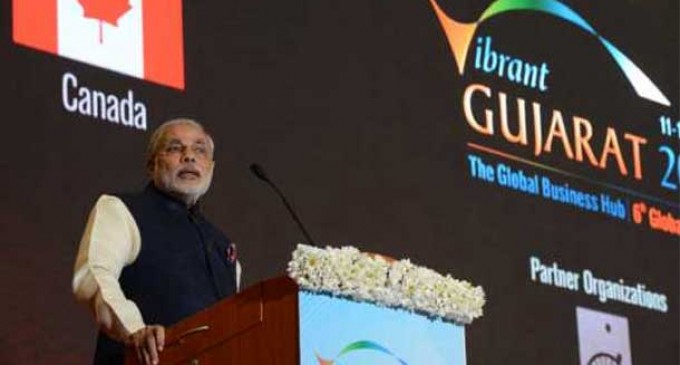 Gandhinagar, Jan 8 Prime Minister Narendra Modi Thursday said he has fulfilled his promise to the diaspora of merging the Persons of Indian Origin (PIO) and Overseas Citizenship of India (OCI) cards.
"I can say with pride that I have done what I promised. I said that PIO and OCI cards will get lifelong visas and the work is done," he said at the 13th Pravasi Bharatiya Divas here as the crowd cheered.
He said the government has done away with the requirement of PIO card holders living in India to visit a police station, as it is "a question of the swabhiman (self pride)" of the diaspora, adding he wondered why the requirement existed at all.
He said his promise of merging PIO and OCI cards which he made during his address at the Madison Square Garden in New York has been fulfilled.
He said that it has been done after overcoming some niggling issues and both card holders will "get the same benefits".
Modi also said that his promise of visa on arrival has been granted to 43 countries.
He said that Indian missions around the world would be there to provide all assistance to the diaspora and added the government was planning to introduce electronic authorization for online correspondence with the Indian missions.
A PBD Kendra is also coming up and would be inaugurated soon for the benefit of pravasis, he said.
Modi also proposed an online quiz competition for diaspora youth on the subject Bharat Ko Jano and the winners would be felicitated at the PBB.
More than 4,000 delegates are attending the 13th PBD, the world's largest annual gathering of people of Indian origin aimed at enhancing networking and reinforcing commercial linkages.
There are 25 million people of Indian origin residing outside India.
The event is being held in Gandhinagar Jan 7-9 to mark the centenary of India's "sarva sreshtha pravasi Bharatiya", or foremost Indian diaspora member, Mahatma Gandhi's return to the country from South Africa.
Chief guest Guyana President Donald Ramotar and South African Foreign Minister Maite Nkoana-Mashabane were also present.