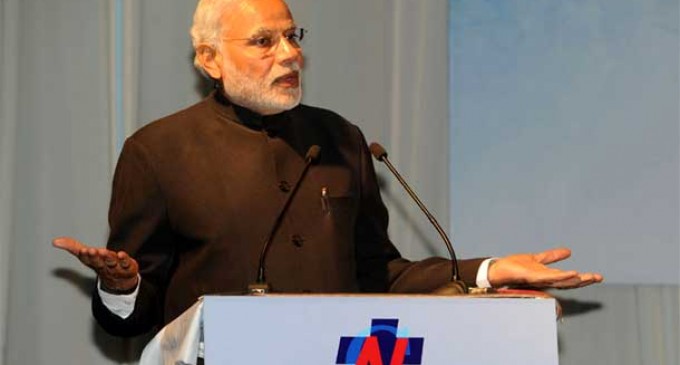 Kathmandu, Nov 25 Prime Minister Narendra Modi Tuesday urged Nepal to frame its much-awaited constitution early and on the basis of consensus.
Addressing an event here to hand over to Nepal a 200-bed trauma centre built by India, Modi said writing the constitution was "taking too much time" and urged Nepal to finish the work on the basis of consensus and not majority.
He said the constitution should be like a bouquet with each flower representing each strata of the Nepali society – the Madhesi, the Maoists and Pahadis – providing them rights.
Modi, who is here to attend the 18th SAARC Summit, said India will not interfere and has never interfered in Nepal's affairs, but added that "Nepal's happiness is reason for us to smile, so write it fast".
He said if the constitution was not written with consensus "there could be problems later". "Every person should be happy under it," he added. Political parties have set Jan 22 as deadline to draft the Constitution.
Modi also handed over the keys of a Dhruv Advanced Light Helicopter to the Nepali army.
The 200-bed trauma centre has been built by India at a cost of Rs.1.5 billion in the city's Bir Hospital, the oldest medical facility in the country.
He also handed over a mobile soil testing laboratory to Nepal. A Kathmandu-Delhi bus service is also to kick off.
Modi said that a "lot of trust" has been built into their bilateral relations. He said a "big horsepower engine" of trust has been fitted into their relations in the 100 days since his last visit to Nepal in August.
Referring to his decision not to visit Lumbini, the birthplace of Lord Buddha, as well as Janakpur and Muktinath, which both Hindus and Buddhists hold as sacred, Modi said it was due to paucity of time.
"This time I was keen to go by road because I wanted to see the difficulties the people of Nepal and Indians on that side face and help mend matters. But due to shortage of time I could not do it," he said.
The prime minister said he was aware of the disappointment of the people in the three places and assured them that he will visit them in the near future. "I can experience your love from far, and I assure every Nepali citizen they have full right on India, and Indians and their prime minister," he said.
He said the bilateral decisions that were stuck for the past 25 years were now being pushed forward. "Between my first visit, and my second, decisions have been taken to change lives in Nepal, and give happiness to India," the prime minister said.
Modi said the hydropower projects that were stuck for many years have been pushed forward and that all the Nepal parties have shown farsightedness in backing the projects with India.
He said a new electricity transmission line was being set up between the two countries. "One new transmission line of 1,000 MW is being installed, and Nepal will light up," he said.
Prime Minister Modi said the $1 billion line of credit which he had announced during his last visit is being finalised now.
Both countries would sign the Motor Vehicles Act that would allow regular bus service between the two nations, and allow the common people to make use of it, according to Modi.
He said the bus service could also give a fillip to tourism between the two countries and that he had suggested providing the bus with a Wi-Fi facility.
Touching on the high call charges for phone calls between the two nations, Modi said though the two countries are close neighbours and linked economically the phone call rates were high.
"In India the rate is 40 paise and in Nepal it is Rs.3.50."
The prime minister said the Indian operators have agreed to reduce it by 35 percent, and urged Nepal providers to see if they could also slash the call rates.
On the difficulty of Nepalese workers in bring back Indian currency of Rs.500 and Rs.1,000 denominations to Nepal, he said he had appealed to the government and from now on Indian money up to Rs.25,000 in those denominations would be allowed into Nepal.