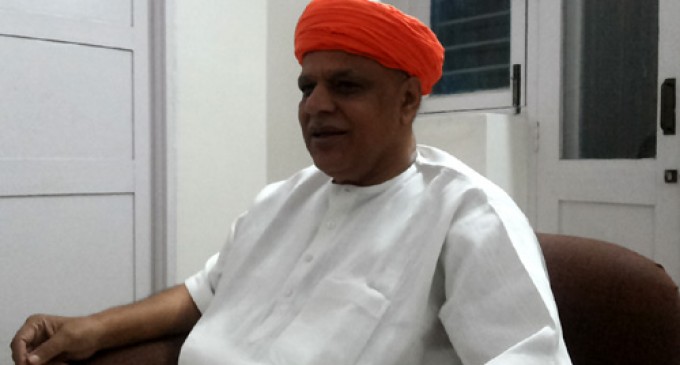 New Delhi, August 27 Three times BJP Loksabha MP from Bhadohi, Uttar Pradesh and also neighbouring PM Modi Constituency Varasani, Virender Singh 'Mast' created a flutter saying said that "Kisaani Pagdi" he wears even during the Parliamentary proceedings, is a symbol of a proud Indian Farmer and his cultural tradition worhty than a permission ot visit the United States of America.
Speaking to Diplomacyindia.com about his experience during the VISA application process at the US embassy in Delhi, Singh said that he refused to sign visa documentation papers withouts wearing a Pagdi whiled being photographed. As for him Pagdi is a article of faith for him as a 'Kisaan' and also he viewed it as 'Restrictive' & 'Prescriptive' on the part of the US Embassy.
Linking the episode with Indian Pride, the MP in exclusive conversation with Diplomacyindia.com said that he stood for Swadeshi and organic farming and he was briefed and invited by an US Embassy team to visit a Farm Progress Show in the US.
The MP was invited by USDA offie of Agricultural Affairs Farm leaders delegation to US for a visit between August 23 – September 03 arranged by the US farmer groups & organisations and fully funded by the above office.
"I did not ask for the invitation. In fact, they invited me. Some US Embassy officials contacted me before the monsoon session of parliament. They wanted to know about the Indian agriculture techniques and I briefed them about it. I was also interviewed by them," the MP said.
"They were impressed and they requested me to visit the US to give a lecture. But I politely refused as the monsoon session was to begin. They said they will be happy if I could agree to visit after the session ends," he said.
Mast said that after the end of the monsoon session, the US Embassy officials again contacted him and he then agreed to their proposal.
Mast said he will raise the matter with the External Affairs Ministry and also in parliament.
In a detailed response to the queries raised by diplomacyindia.com, the US Embassy Spokesperson in a email clarified that "The United States does not discriminate on the basis of religion nor do we forbid religious dress. During the visa application process the United States Embassy in New Delhi does not ask individuals to remove turbans or other religious dress. Nor do we ask individuals to remove their turbans for photos submitted in the visa application process.
Each year the U.S. mission in India issues over a million visas for India citizens of all religions and ethnic groups to visit, work in, or study in the United States and that number has been increasing every year."
In response to this the External Affairs Ministry Spokesperson said that the matter is being referred to America Desk in the ministry.