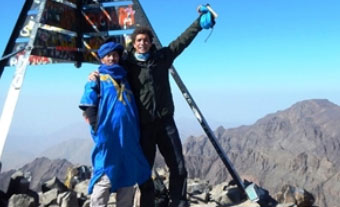 The 22-year-old traveller, Galal Zekry-Chatila, will start an adventure to reach the top of Mount Kilimanjaro, the 6,000-metre 'Top of Africa' in Tanzania, in six days in a bid to raise funds to help non-profit organisations and charities.
He rose to the spotlight after cycling 7,000 kilometres in Egypt, and he has spent the past five years reaching the peaks of mountains in Sinai, North Africa, and the Alps. "I've been climbing mountains for my birthdays for the past five years.
It's a way to reflect on myself and my previous year, to challenge my limits, and think of what I've done in the previous years," says Zekry-Chatila, who celebrated his 21st birthday climbing Mount Toubkal, the highest peak in North Africa.
Source : From the Newsletter of Embassy of Egypt in New Delhi, India