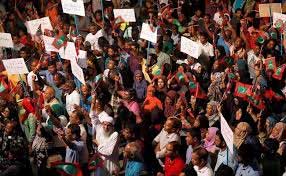 New Delhi, Feb 6 (IANS) India on Tuesday said that it was disturbed by the situation in the Maldives where President Abdulla Yameen has declared a state of emergency and has put judges and political leaders behind the bars.
"We are disturbed by the declaration of a state of emergency in the Maldives following the refusal of the government to abide by the unanimous ruling of the full bench of the Supreme Court on February 1, and also by the suspension of constitutional rights of the people of Maldives," the External Affairs Ministry said in statement.
"The arrest of the Supreme Court Chief Justice and political figures are also reasons for concern," it stated. "Government continues to carefully monitor the situation."
The statement comes after former Maldives President Mohammed Nasheed, earlier in the day, sought India's help to resolve the raging political crisis in the Indian Ocean archipelago nation.
Taking to Twitter, Nasheed said that he was requesting India, on behalf of the Maldivian people, to send its envoy, "backed by its military", to release judges and political detainees, including former President Maumoon Abdul Gayoom
Nasheed, who lives in self-exile in Britain, also requested the US "to stop all financial transactions of Maldives regime leaders going through US banks".
Meanwhile, in his first public statement after clamping a 15-day state of emergency and jailing the country's Chief Justice, President Yameen in a live address on Tuesday said he had taken the move as the top judge and another apex court judge were involved in corruption and also alleged a "coup" by them – in directly disobeying his orders, including making moves to impeach him.
Maldivian police arrested Chief Justice Abdulla Saeed and Justice Ali Hameed from the Supreme Court at around 3 a.m., after an almost seven-hour siege and took them to a detention facility outside Male.
The Maldives has been facing unrest after the Supreme Court ruled last week to release top opposition political leaders including former President Nasheed and former Vice President Ahmed Adeeb.
The US State Department said it was "troubled and disappointed" by the developments in the archipelago nation, while British Foreign Secretary Boris Johnson called on President Yameen to lift the emergency.
India, China and Britain have issued travel warnings for their citizens.