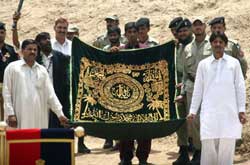 Jammu, June 26 Thousands of devotees from India and Pakistan Thursday thronged the centuries-old dargah of Baba Chamliyal in Samba district of Jammu and Kashmir to seek blessings and cures for physical and spiritual ailments by applying the pious soil of the shrine that is believed to have healing qualities.
How spiritual devotion transcends man-made borders became evident Thursday as people from across the border stood in reverence to mark the annual mela at the shrine.
The devotees stood on both sides of the border to have a glimpse of the ritual of handing over of a 'chadar' of flowers to Border Security Force (BSF) officers by the Pakistani Rangers to be laid on the dargah.
The local administration and BSF handed over the 'shakkar' (soil) and 'sharbat' (holy water) to the Pakistan Rangers for distribution among the thousands of devotees eagerly waiting for the same on the other side of the border.
Senior district administration officers from either side exchanged sweets and gifts.
The Samba district administration made elaborate arrangements for the devotees, including medical facilities, drinking water and additional buses to cater to the rush.
The festival at the shrine is celebrated in memory of Baba Dalip Singh Manhas every year in June in Chamliyal village on the India-Pakistan border, 40 km from Jammu city.
The unique feature of this mela is that Baba Chamliyal is revered by people on both sides of the border. People of all religions throng the shrine during the festival.