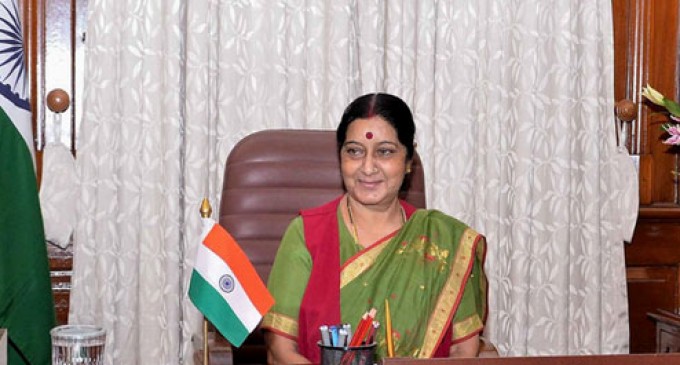 New Delhi, Feb 19  Enhancing connectivity between India and the Asean region can be a game changer for India's northeast, External Affairs Minister Sushma Swaraj said on Thursday.
"Enhancing connectivity is a strategic priority for both India and Asean. For India's northeastern region, it can be a game changer.
"India has been working with Asean to enhance physical connectivity via our northeast as well as our eastern seaboard," she said in her keynote address at the ministerial session of the eighth edition of the Delhi Dialogue, a premier annual track 1.5 diplomatic event discussing the politico-security, economic and socio-cultural engagement between India and the 10-member Association of Southeast Asian Nations (Asean).
Sushma Swaraj said the Kaladan Multi Modal Transport project, India-Myanmar-Thailand Trilateral Highway and Rih Tedim Project in Myanmar were in progress to enhance connectivity between India and Asean nations via the northeast.
While the Kaladan project has achieved a physical progress of close to 90 percent and is scheduled to be completed in the next few months, the tendering process for 69 bridges on the India-Myanmar-Thailand Trilateral Highway has been initiated, she said.
"The Rih-Tedim Road project will provide all weather connectivity between eastern Mizoram and western Myanmar," the minister said, adding that work on enhancing air connectivity between the northeast and the Asean region was also on.
Describing India and Asean as two bright spots of optimism amidst ongoing global economic uncertainties, she said the Asean Community has opened up a whole new world of opportunities for growth.
"India would like to be part of this growth and in this sense, the development of an Asean-India Economic Community would be a logical evolution. We also encourage the Asean member states which are yet to ratify the Asean-India Agreements on Trade in Services and Investments to do so at the earliest," she said.
She said a balanced and ambitious Regional Comprehensive Economic Partnership (RCEP) agreement, if concluded this year, will further boost India's economic and commercial engagement with Asean and the wider Asia-Pacific.
Sushma Swaraj also stressed on the importance of ensuring maritime security, "which has emerged as an important area of concern in recent times".
"The oceans and seas, including the South China Sea, are pathways to our prosperity and security. The security of sea routes in the Asia-Pacific is essential for India's economy as a majority of our global trade flows across the straits of Malacca and beyond," she said.
Stating that the deep and abiding socio-cultural links between India and Asean date back two millennia, Sushma Swaraj hoped that people-to-people exchanges would engender research tie-up between the universities and think tanks of the two sides.
Indonesian National Development Planning Minister Sofyan A. Djalil highlighted the need to enhance maritime connectivity and development of global value chains.
A panel discussion on "Connectivity: Creating Pathways to a Shared Future" was held with Chief Ministers of Nagaland and Mizoram, T.R. Zeliang and Lal Thanhawla respectively, Myanmar's Deputy Foreign Affairs Minister U Tin Oo Lwin, Thai Vice Minister for Foreign Affairs Virasakdi Futrakul, and ASEAN secretariat deputy secretary general A.K.P. Mochtan.
"All concurred on the key role of connectivity as an enabler for prosperity, growth, peace and people-2-people contacts," the statement said.
A second panel on "Asean economic community and India: Integrating regional value chains and production networks" saw the participation of Vietnamese Vice Minister for Foreign Affairs Le Hoai Trung, Lao's Vice Minister for Industry and Commerce Somchith Inthamith, Cambodian Under Secretary of State for Foreign Affairs Kan Pharidh, Singapore MP and Singapore-India Parliamentary Friendship Group chairman Vikram Nair, along with Ambassador of the Philippines to India, M.A. Teresita C. Daza.
Thursday's ministerial session was attended by over 200 delegates from Asean countries and India.
The ministerial session was preceded by a business session on Wednesday and will be followed by an academic session on Friday.