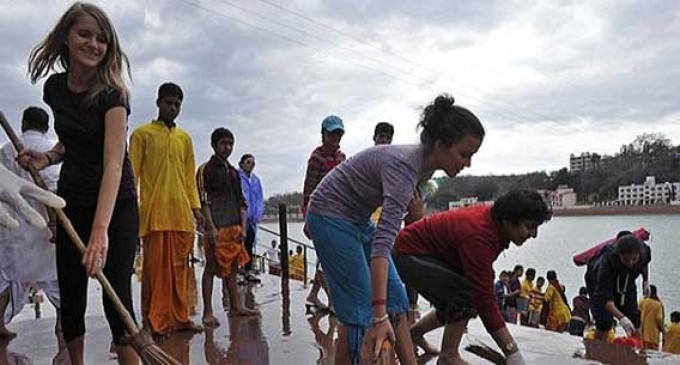 "Germany is pleased to contribute to the 'Namami Ganga' (Clean Ganga) Umbrella Programm of the Government of India", said German Ambassador, Dr Martin Ney. "Germany has a very successful and long standing development partnership with India: Germany´s ultimate goal is to bring back 'Mother Ganga' in India to its pristine condition as it has been done successfully for 'Father Rhine' in Germany".
Germany is one of the main partners of the Indian Government in river basin management. Germany can help implement best practices gained from experiences with European rivers such as the Rhine and the Danube.
In the presence of the German Ambassador Dr. Martin Ney, and Secretary Shashi Shekar, Ministry for Water Resources, River Development and Ganga Rejuvenation (MoWR, RD&GR) the first implementation agreement to provide technical cooperation for Ganga rejuvenation was signed on 13th April 2016 in Delhi between theDeutsche Gesellschaft für Internationale Zusammenarbeit (GIZ) and the MoWR, RD&GR. The project duration is 3 years, and the German contribution is up to EUR 3,000,000 (22.2 Crores INR).
The German development approach is based on three key elements:
Start at the beginning: It will start upstream with the focus on the state of Uttarakhand. The project will improve the identification of pollution hot-spots and eradicate pollution mainly resulting from domestic and industrial sources. InUttarakhand, the project team will collaborate with the State Programme Management Group (SPMG) established under the framework of the National Ganga River Basin Authority (NGRBA).
Follow a comprehensive approach: The project will concentrate on the whole river basin. All relevant stakeholders at national and at state level are involved. The objective is to enable these stakeholders to apply integrated river basin management approach for the rejuvenation of the river Ganga, which includes unpolluted flow (Nirmal Dhara) as well as continuous or ecological flow (Aviral Dhara).
Protect from further pollution: The project will concentrate on the cities´ waste management system including solid waste management.
In addition to the project signed today the German government provides support to cities in Uttarakhand to improve their sanitation management system. For instance, the industrial sector in Uttarakhand receives technical cooperation of 11.1 Crores INR (1.5 mio Euro) for improvement of their waste management practices and reduction of wastewater discharge. Further, the German government owned development bank KfW prepares around 900 Crores INR (121 mio Euro) of investments for Uttarakhand in order to construct sanitation systems in selected cities.