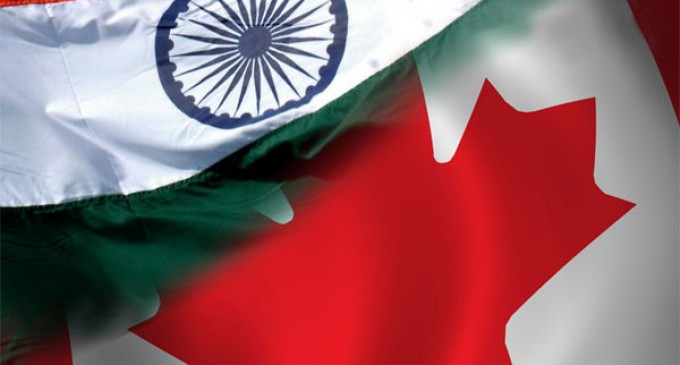 Toronto, April 11 A deal between Canada's biggest uranium producer, Cameco, and India to supply fuel for nuclear power plants is likely to be signed during Prime Minister Narendra Modi's visit to the North American country this month, a Canadian daily has reported.
"There is a fairly late-stage negotiation on and I think it's likely to conclude successfully," The Globe and Mail on Friday quoted a source familiar with the Canada-India uranium supply talks as saying.
"I just don't know whether it's going to conclude by next week."
Modi will visit Canada from April 14 to 16 on the last leg of his ongoing three-nation tour.
The report cited a Facebook post by the Indian prime minister in which he stated that he looked "forward to resuming our civil nuclear energy cooperation with Canada, especially for sourcing uranium fuel for our nuclear power plants".
Canada had banned exports of uranium and nuclear hardware to India in the 1970s after New Delhi allegedly used Canadian technology to build a nuclear bomb.
However, the two countries turned the page in 2013 with the signing of the Canada-India Nuclear Cooperation Agreement, which effectively meant that Ottawa no longer saw New Delhi as a nuclear pariah but as a safe, responsible nuclear power despite the latter's refusal to sign the Nuclear Non-Proliferation Treaty.
The Globe and Mail cited the source as saying that if the nuclear deal does not come through during Modi's visit "then Ottawa and New Delhi will reiterate their commitment to Canada-India nuclear cooperation and say, 'Cameco is in the middle of negotiations and we expect an announcement in due course'."
Stewart Beck, who was Canada's high commissioner to India from 2010 to 2014, is optimistic about the Cameco export deal as, according to him, high-level visits help clinch agreements.
Modi will be the first sitting prime minister of India to make a bilateral visit to Canada in 40 years. Four percent of Canada's population is of Indian origin.
"The visit will, I think, increase the likelihood of a deal being concluded," Beck said.
According to the report, top Cameco executives will be in Ottawa during Modi's visit but the company said there are no plans for a private meeting with the Indian prime minister.
"We've been meeting with government officials and working towards a long-term supply agreement with India. At this point, we have not made any sales to India, but discussions continue," Cameco spokesman Rob Gereghty was quoted as saying.
In case there is an agreement, Canada's nuclear regulator, the Canadian Nuclear Safety Commission, will have to approve shipments of the fuel. The deal would be for five or 10 years or more, according to the report.
Indian High Commissioner to Canada Vishnu Prakash said India's energy needs are growing rapidly as more people move to cities and the economy grows.
"We have a multi-fold objective," he was quoted as saying.
"One is to expand our capacity of energy generation. Second, to have clean energy, and therefore there is a very strong emphasis on nuclear energy and renewable energy. And for all these reasons, we have been working closely with our partner countries, and Canada is one of our very important partners, to attain those objectives."