Chancellor Osbourne Meets Indian FM Eyeing Major Contracts

By TN Ashok / Diplomatic Editor

New Delhi, July 08: Visiting British Foreign Secretary William Hague today met with the Indian Prime Minister Narendra Modi and External Affairs Minister Ms Sushma Swaraj in a mission aimed at boosting Indo UK trade ties even as UK Chancellor met FM Arun Jaitley in parallel eyeing a series of multi-million pound defence and construction deals with the new BJP government.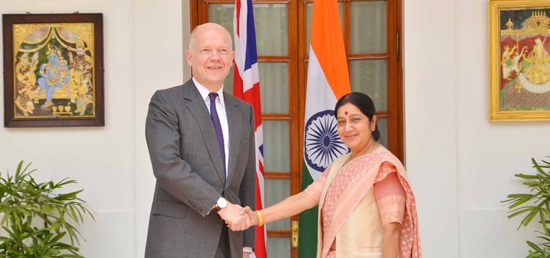 "The discussions Hague had with Modi and Sushma Swaraj were wide ranging and included a variety of economic issues ", India's foreign office spokesperson Syed Akbaruddin told newsmen today adding the expectations from the UK government were very high in moving bilateral trade to a robust and the next higher level.
The United Kingdom has sent a high level delegation under Foreign Secretary Hague and Chancellor George Osbourne to take Indo UK trading ties to the next level as UK is the 3rd largest investor in India and India the 5th largest investor in Britain.
There are more than 700 Indian companies operating in the UK employing people in excess of 7,000 with the TATA's being one of the premier companies that recently took over the prestigious auto giant JLR (Jaguar Land Rover Ltd) and lifted it from sagging losses to healthy profits through increased sales and aggressive marketting worldwide. This has encouraged UK business to attract more Indian FDI into Britain.
The UK chancellor and the foreign secretary are the first senior British politicians to meet the Indian Prime Minister Narendra Modi since his landslide victory in the general elections in May this year. They follow in the footsteps of senior French and Russian ministers as foreign politicians make a bee line for India to meet Modi and win contracts in the infrastructure boom and further economic reforms promised by the BJP government.
Chancellor George Osborne hailed Narendra Modi's new government's quest to attract foreign investment into the country and told a function in Mumbai, the financial capital of India, "good days are coming", a refrain used by Modi in his election campaigns. .
Osborne told a distinguished gathering in Mumbai that a number of new trade deals between the UK and India were in the offing. The chancellor praised the close ties between the two nations, ahead of an announcement today that would see UK export finance used to support greater infrastructure growth in the country.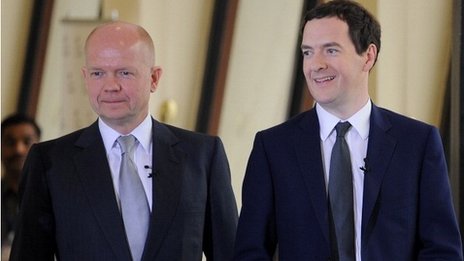 "India is embarking on an exciting journey of reform under your new government," Osborne said adding: "I believe there to be no more reliable companion on that journey than the United Kingdom."
The chancellor is on a trade visit to India with foreign secretary William Hague and MP Priti Patel. Their visit follows a deal that will see India buy military equipment from the UK. Osborne met the nation's highly regarded Central Bank governor Raghuram Rajan yesterday and met with his Treasury counterpart Arun Jaitley.
Osborne is making a concerted effort to court Modi's government just two years after the UK re-established relations with him following a boycott over alleged complicity in riots in 2002 that targeted Muslims reportedly, political observers said adding that the Supreme Court however absolved him of the charge finding no shred of evidence.
Hague and Osborne have repeatedly said they want to expand military exports to India. "We want our defense and aerospace companies to help bring India more cutting-edge technology, skills and jobs," they said in an editorial comment published in a leading Indian daily.
Speaking on BBC Radio 4's Today program  earlier, Osborne defended the UK's efforts to sell military equipment to Modi, saying India has "difficult neighbors" and has a right to defend itself. The chancellor said he had wanted to meet Modi to say that Britain and India "can do lots of good business together". "We took a decision in 2012 to re-establish contact with him," Osborne said.
"That has been very sensible given all that has happened since, in the way Mr Modi has managed to win an outright majority for the first time in Indian politics for 30 years, to create a real sense of excitement in India that economic reform is possible and is going to happen."
Meanwhile, Mr Osborne also announced that Indian pharmaceutical company Cipla is to invest up to £100m in the UK.