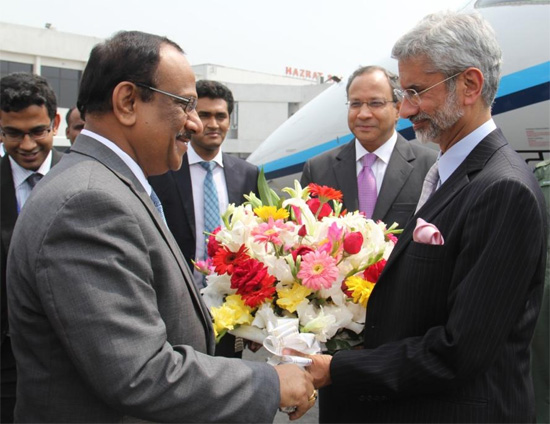 Dhaka, March 2 Bangladesh Foreign Secretary Md. Shahidul Haque said on Monday after the first bilateral talks with his Indian counterpart S. Jaishankar that his country sees "a major change" in foreign policy with New Delhi now focussed on resolving bilateral problems with its neighbours "quickly".
He said they discussed a whole range of bilateral, sub-regional, regional and international issues during the short meeting, bdnews24.com reported.
Jaishankar also met Bangladesh Foreign Minister Abul Hassan Mahmood Ali.
After the meeting, Jaishankar told a large media contingent gathered at the lobby that "we want more cooperation".
The secretary-level bilateral meeting had to be curtailed, as Jaishankar, travelling in a special Indian Air Force aircraft, arrived two hours behind schedule from Bhutan in the morning.
His arrival was delayed due to heavy snowfall at Paro, where the Himalayan country's only international airport is located.
Indian Prime Minister Narendra Modi has sent Jaishankar to make a goodwill visit to all South Asian Association for Regional Cooperation (Saarc) countries to give his neighbourhood outreach a push.
Modi's new endeavour comes a month after he replaced Sujatha Singh with Jaishankar.
But issues of bilateral interest, particularly the unresolved Land Boundary Agreement (LBA) and the Teesta water-sharing deal dominate public interest in Bangladesh amidst his goodwill visit.
The Bangladesh foreign secretary said they discussed all issues, including the LBA and Teesta, "but nothing specific" during the 40-minute bilateral meeting.
The LBA ratification is at the final stages awaiting parliamentary approval.
"We raised our concern on Teesta," he said, replying to a question, adding that the feedback from India was positive.
"One thing that became clear is that they want to solve problems. They want to strengthen relations with regional countries and solve problems, if any, quickly," he said.
"We see it as a major change in Indian foreign policy," Haque added.