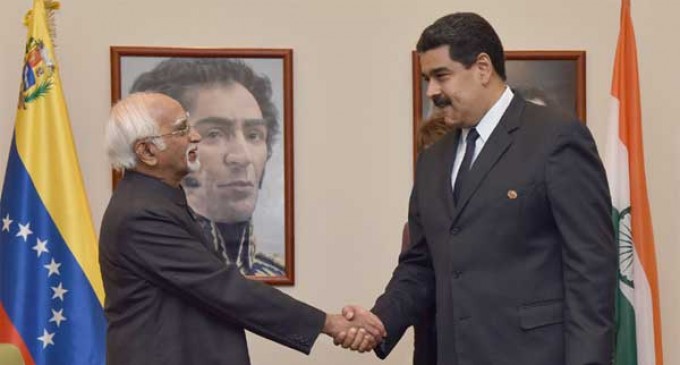 New Delhi, Sep 17  Indian Vice President Hamid Ansari called on Venezuelan President Nicolas Maduro ahead of the Non-Aligned Movement (NAM) Summit being hosted by the South American nation.
"Warmer ties with Venezuela. VP Ansari calls on President Nicoals Maduro Moros in his first engagement in Venezuela," External Affairs Ministry spokesperson Vikas Swarup tweeted along with pictures of the two leaders.
Ansari is leading the Indian delegation at the 17th NAM Summit being held at the Venezuelan island of Margarita on September 17-18.
Earlier, on his arrival in Margarita on Friday, Ansari was received by Venezuelan Executive Vice President Aristobulo Isturiz.
India, one of the founding members of the Movement, hosted the 7th NAM Summit in 1983 in New Delhi. The last NAM Summit was hosted by Iran in 2012.
NAM today comprises 53 countries from Africa, 39 from Asia, 26 from Latin America and the Caribbean and two from Europe.
There are 17 countries and 10 international organisations that are observers at NAM, which came into being 55 years ago when leaders of 25 developing countries met at the 1961 Belgrade Conference.