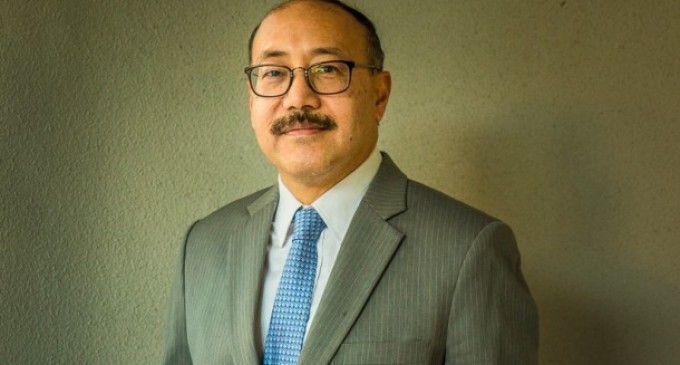 Agartala, Sep 19 (IANS) Any incident of terror taking place in Bangladesh has implications for India as well, says Indian High Commissioner to Bangladesh Harsh Vardhan Shringla.
"Although there is not sufficient evidence of cross-border terror activity, consequential effect of a horrific incident taking place in Bangladesh can be on India as well, as we share a long land boundary with that country," Shringla told IANS during a visit here.
He, however, expressed satisfaction that the Bangladesh authorities have now realised that terror activities could take a serious turn in their country, and they have met with some success in dealing with the recent acts of terror on their soil.
The Indian envoy said, "Ever since the Bangladesh security forces have taken some pro-active steps, the situation in that country has improved a lot. Bangladesh has been mobilising the people of all sections to deal with the situation emerging from the recent terrorist attacks."
Referring to the Home Minister-level meeting held in July in New Delhi, Shringla said that India and Bangladesh would fight terrorism jointly, as agreed upon during the meeting, also because it is in their interests.
"The Home Ministers of India and Bangladesh, during their last meeting in New Delhi, decided to tackle terrorism jointly, in the common interest of the two neighbours," he added.
The Indian diplomat maintained that if Bangladesh faces a threat, its potential impact on India can't be ruled out. "Bangladesh is very responsive to our security concerns. Both countries are helping each other in dealing with the threats and the situation currently prevailing there."
Shringla, who joined as the High Commissioner in Bangladesh in January 2016, was in Tripura as part of his visit to the five Indian states along the Bangladesh border. He met Tripura Chief Minister Manik Sarkar, Chief Secretary Yashpal Singh and various other officials and dignitaries and discussed India-Bangladesh issues.
"Bangladesh security forces' actions against the militants holed up in northeast India were instrumental in securing peace and stability in India's northeastern region. Most of the camps (on Bangladesh land) of militants active in the Northeast have been busted and their infrastructure demolished," he said, and added that the Bangladesh government has also handed over several militants and their leaders to the Indian authorities.
The Indian High Commissioner also hailed the Bangladesh security forces for deft handling of the situation and nabbing terrorists after the deadliest terror attack in Dhaka on July 1 that killed 20 hostages, mostly foreigners, in the capital's diplomatic zone.
"Bangladesh security forces were more or less successful in finding the blueprint of the recent terror activities in their country. We believe Bangladesh would be successful in containing terror activities and threats from that country," he added.
"The Bangladesh government has involved people and all stakeholders, including Imams, to deal with terrorism and arrested many terrorists and their collaborators. In fact, Prime Minister Sheikh Hasina has personally interacted with the authorities and stakeholders in the 64 districts across the country to handle the situation," Shringla said.
The District Magistrates and Deputy Commissioners of the border districts of India and Bangladesh are meeting regularly to ease out border-related issues of the two countries, according to him. "Both New Delhi and Dhaka have delegated various powers to district-level officials to handle issues that can be sorted out at their level."
"India is fencing its borders with Bangladesh to check crimes, terrorists' movement, cross-border harmful activities and infiltrations. Over 75 per cent of 4,096-km India-Bangladesh borders have already been fenced and remaining portions are being fenced in a phased manner," the High Commissioner added.
Talking about the attacks on minorities in that country, Shringla said that some isolated incidents of attacks did take place, but the Bangladesh Government has taken appropriate actions immediately and addressed the issues.
"A number of perpetrators of attacks on minorities were either arrested or killed by the Bangladesh security forces," he added.
Five states of India — West Bengal (2,216km), Tripura (856km), Meghalaya (443km), Mizoram (318km) and Assam (263km) — share longest 4,096-km border with Bangladesh