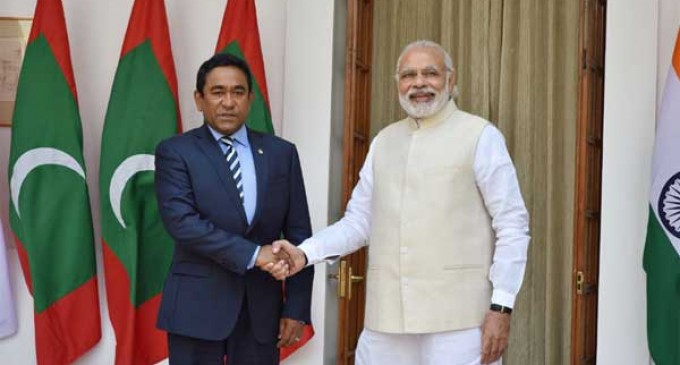 New Delhi, April 11  Prime Minister Narendra Modi on Monday welcomed Maldivian President Abdulla Yameen Abdul Gayoom here ahead of bilateral talks with the Indian Ocean archipelago nation.
"Advancing the goal of Neighbourhood First. PM welcomes President Abdulla Yameen Abdul Gayoom at Hyderabad House," external affairs ministry spokesman Vikas Swarup tweeted.
Earlier on Monday, External Affairs Minister called on President Yameen in tbe latter's first engagement of the day.
Yameen is also scheduled to call on President Pranab Mukherjee on Monday evening before departing from India.
Yameen had come to India on a bilateral visit in January 2014 and was among the South Asian leaders who attended the Modi government's swearing-in in May 2014.
Though India and Maldives completed 50 years of diplomatic ties last year and the two countries historically enjoyed a close relationship, Yameen's visit assumes significance because of New Delhi's discomfiture over China's increasing investments and influence in the Indian Ocean region.
Sushma Swaraj visited Maldives in November 2014 and again in October 2015 for the India-Maldives joint commission meeting, which was held after 15 years.
This year, ministerial delegations to India, led by the foreign minister, defence minister, tourism minister, and foreign secretary "have further strengthened bilateral ties between India and Maldives", said a Maldives high commission statement.
India has sought to deepen its relations with the Yameen dispensation following unease in ties that had crept in after New Delhi was seen backing former president Mohamed Nasheed. India had voiced concern over his prolonged incarceration, and Prime Minister Modi had also cancelled a visit to Male earlier.