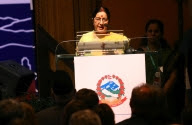 Kathmandu, June 26  Nepal was on Thursday pledged $4 billion by the international community for its reconstruction following a devastating quake two months ago with India announcing the largest amount of $1 billion in aid at the International Donors Conference on Reconstruction of the Himalayan nation here.
Nepal was ravaged by a 7.9-magnitude earthquake on April 25 that killed over 8,800 people and left over 100,000 injured, one million displaced and damaged some one million private and public houses, structures and buildings.
The total requirement for the country's reconstruction was placed at $6.7 billion by the government in its Post Disaster Needs Assessment report and the Nepal government announced $2 billion as a startup fund immediately after the April 25 earthquake.
Top officials from 56 countries and donor agencies took part in the daylong conference pledging support to Nepal's reconstruction effort.
At the outset, Nepal Prime Minister Sushil Koirala sought liberal aid from the international community for rebuilding the country after it was hit by the April 25 quake.
India responded to Nepal's appeal with a $1 billion pledge, which was the largest amount of aid promised by any country or donor agency.
Out of the pledged amount, one-fourth was in the shape of grant, Indian External Affairs Minister Sushma Swaraj announced.
With the announcement of $1 billion loan and grant for Nepal's reconstruction, India has pledged $2 billion to Nepal in the last one year — the single biggest aid promised for the economic development of Nepal.
The amount pledged by India on Thursday will be used in the reconstruction of physical infrastructure as well as some key heritage sites which were severely damaged in the April 25 temblor and the intermittent aftershocks that followed. India's contribution is almost one seventh of the total requirement of $6.7 billion.
Chinese Foreign Minister Wang Yi pledged to extend $480 million in the form of grant and loan.
China also offered a concessional loan from the Silk Road Fund for Nepal's reconstruction effort. China would also offer training opportunities for 1,500 Nepalis over the next year.
Japan announced $260 million at the conference, and assured to organise the second donor conference to support Nepal's rebuilding effort.
"Japan will support in repairing cultural heritages," said Japanese State Foreign Minister Minoru Kiuchi.
US Ambassador to Nepal Peter Bodde announced aid worth $130 million.
Norway announced $30 Million, Britain pledged $110 million, Canada promised $60 million, Switzerland $25 million, and South Korea $10 million.
Pakistan has pledged $1 million and Austria announced $1.2 million in financial assistance.
Canada pledged $30 million, Turkey $2 million, Sri Lanka $2.5 million, Australia $6 million and Germany 30 million Euros ($33.58 million).
The Asian Development Bank pledged support of $600 million. EU pledged an additional support of 100 million euro ($111.94 million) as grant assistance.
Earlier on Tuesday, the World Bank had said that it would provide up to $500 million to finance the reconstruction of Nepal.
Meanwhile, Brazil, Kuwait and Saudi Arabia have assured to support Nepal's recovery bid but have not announced their contributions towards the effort.
The high-profile international donors conference drew over 300 delegates from 60 nations, development partners and donor community, including Indian Minister for External Affairs Sushma Swaraj and Chinese Foreign Minister Wang Yi.