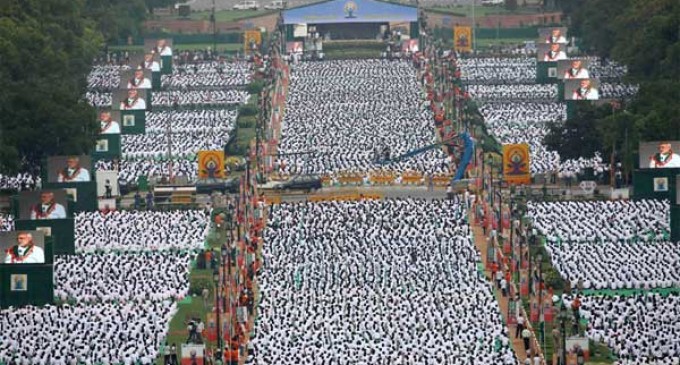 New York, June 22  A yogic calm settled on the frenetic "Crossroads of the World", Times Square, on Sunday as 30,000 people thronged its plazas for an hour of yoga practice, an assembly exceeded only by the 36,000 on New Delhi's Raj Path.
They held their breath for a lot longer than the fabled "New York Minute", breathed out, stretched, bent, knelt and raised their faces heavenwards, bringing a collective calm to the heart of the city and joined millions around the world in celebrating the International Day of Yoga.
And their's was the world in microcosm: Whites, Africans, Indians, Latinos, Middle Easterners and East Asians were there. And reflecting UN Secretary-General's words, "Yoga does not discriminate (and) to varying degrees, all people can practice", there were the youth, the old, the frail, the spritely, the heavy-set and those with sculpted physiques.
Times Square Alliance President Tim Tompkins had earlier described the moment as bringing "mind over madness", referring to the "crazy pace of life in the US".
Evidence of that rush was in evidence around the yoga practitioners as giant billboards blared out their advertising in bold LED colours. People dressed in comic characters from movies hustled tourists for pictures.
And incongruity of yoga in a commercial atmosphere was in the made-in-China orange yoga mats distributed to the participants and the Japanese restaurant offering yoga-themed sake specials for yoga day.
External Affairs Minister Sushma Swaraj, who spoke at the end of the first yoga performance, called yoga a great anti-depressant, helping people stressed out in the unrelenting fast pace of modern life.
Sri Sri Ravi Shankar, the Art of Living guru, explained how in his view yoga contributes to global amity: "Inner peace leads to world peace".
He said that they US spends about $40 billion on anti-depressants and yoga could help cut this down.
Later in the evening he was to lead a meditation by 5,500 people at the Avery Fisher Hall.
To accommodate the overflow crowds, Times Square held another round of yoga exercises in the afternoon.