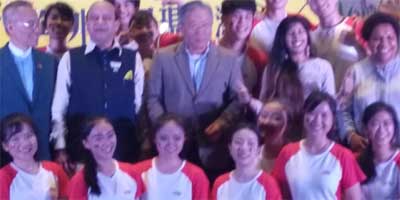 New Delhi, Aug 31 : On a sultry Saturday evening South Delhi's plus venue with lush green lawns and glittering lights came to life with multiple colours of music, sound, cultural presentations, promotional video and live performances by the "International youth Ambassador's of Taiwan" brought by Taipei Economic & Cultural Centre in India (TECC), New Delhi. The Programme Promoted by Ministry of Foreign Affairs of Taiwan since 2009 to promote public diplomacy and create opportunities for outstanding college students selected each year to travel to Taiwan's allies and friendly countries.
With the aim to promote Taiwan's soft power and friendship with other nations, this year's theme "Youth Diplomacy Brings Taiwan to you" consisted of 75 youth Ambassadors divided into three delegation's to visits 2 countries each is focusing on four areas; seminars, volunteer works, courtesy visit and cultural activities.
The young Talents from a diverse field presented their well crafted narrative of presenting Taiwan as a dream destination and also 'Heart of Asia' full with opportunities ranging from trade, education, Industry to Tourism. The presentations' caught the eyes of the audience through its sheer variety, sound & light & music. The cultural highlight of the evening was a beautiful presentation of Kathak Dance sequence  by Indian & Taiwanese artists.
Speaking on the occasion the Representative of the TECC Representative Amb. Tien Chung- Kwang said that this unique foray in to promoting & Deepning friendship with Taiwan's Partners and Friends was also a part of Taiwan's Act south policy. He expressed his confidence that such unique engagements will go a long way in presenting Taiwan in a beautiful way with a fresh perspectives, and a robust people to people contact. The occasion was also graced by the Minister in Home Affairs of Taiwan and the Ambassador of Papua & New Guinea in India.