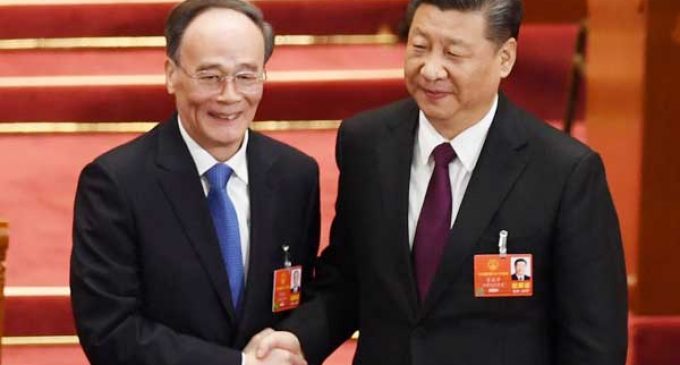 Beijing, March 17 (IANS) Wang Qishan, the former head of the dreaded anti-graft body and President Xi Jinping's go-to, will be China's new Vice President.
Wang, 69, was elected by the lawmakers of China's largely ceremonial parliament – the National People's Congress (NPC), on Saturday at the Great Hall of the People here.
Wang, who last year retired from China's elite Standing Committee which rules the country, spearheaded Xi's anti-corruption campaign, which has netted millions including high flying politicians for graft.
The move will solidify Xi's position who had the term limit for the president and vice president removed from the Constitution.
Wang is said to have Xi's eyes and ears. Their association dates back to Mao Zedong's Cultural Revolution when both were sent to a village for hard labour.
He might handle Sino-US relations.
Like China's President, the post of Vice President is also a ceremonial post and the post of Communist Party's General Secretary, held by Xi, is more powerful.
Earlier on Saturday, the NPC also unanimously approved extending Xi's term to a second mandate.
The vote means Xi will remain in power as the country's president until 2023, having taken office in 2013.
Xi was re-appointed with 2,970 votes in favour, with none against and no abstentions. He was also re-elected as the president of the Central Military Commission, meaning he will retain the three most powerful positions in the country, namely those of president, head of the armed forces and general secretary of the Communist Party.